Governor Willie Obiano and his Imo state counterpart, Rochas Okorochas has given in for a show ahead of 2017 election in Anambra state.
Obiano described Imo governor, Rochas Okorocha as a "Motor park governor."
He said this on Wednesday in response to a statement credited to
Okorocha who said the Anambra governor was aggressive and would have done better as a militant.
Obiano spoke through his Senior Special Assistant on Media, Strategic Communication and Legislative Matters, Prince Oliver Okpala in a statement.
He said Okorocha had no right to fight the All Progressives Grand Alliance (APGA) that made him governor after several failed attempts.
Related: Obiano Is An Analogue Governor, You Cannot Compare Him With Me - Okorocha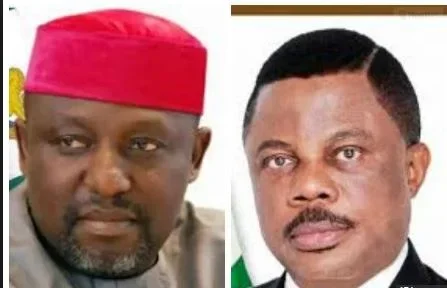 "The attention of the Media Directorate of the Anambra State Governor, Chief Willie Obiano has been drawn to the gratuitous diatribe by a fellow South Eastern Governor, Rochas Okorocha of Imo State against his person and the government of Anambra State.
"It is not in our tradition to respond to such issues but since silence in the face of such grave claims often amounts to guilt, we are therefore duty bound to make our position known to properly guide the public," the statement said.
Obiano while responding to Okorocha referring to him as clueless said he was surprised that his administration which "has dazzled Nigerians with superlative achievements would be referred to as clueless".
He said, "If a governor that has constructed countless number of roads and bridges, embarked on several rural electrification programmes, constructed uncountable number of schools, and health facilities as well as rid the entire Anambra State of crime and criminalities, is being termed clueless by Okorocha then there must be another meaning for cluelessness".