Apostle Suleman has always been in the news. The fiery, controversial Nigerian prophet recently made the headlines after the video where he revealed that he had ordered his security aides to kill any herdsman found around his church premises, went viral. He was to be arrested in Ekiti state by operatives of The Department of State Services (DSS), but the attempt was foiled Governor Ayodele Fayose of Ekiti state. He was in the state for a two-day crusade.
But, how much do we know of this cleric? A detailed report by The Cable revealed some things about the man of God.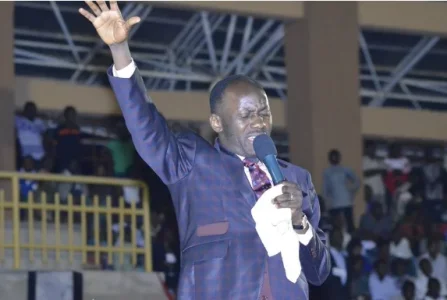 Place of Birth:
Apostle Suleman, the founder of founder and general overseer of Omega Fire Ministries Worldwide, was born in Benin, capital of Edo state. The date of birth of the preacher nicknamed: 'The Oracle', is unknown. His father was a Muslim, while his mother, a Christian. According to information available on his church's website, some prophets came from Warri in Delta state to Benin a few days after he was born. They were said to have come with a message from God, and the message was that a prophet who would minister in God's presence had been born.
His father rejected the message because as a Muslim, he did not see the possibility of his son leaving the fold. His parents disagreed on a number of issues, which eventually led to their separation.
He Joined An Occultic Group:
The separation of his parents had a negative effect on him later in life. Suleman said the craze for acceptance made him take to cultism.
"I was a dignified cultist. I am from a home of separated parents. My parents had some issues. Any child from a home like that is bound to fall into the streets," he said.
"So, I got into school and I wanted acceptance somewhere. Someone told me that there is something called brotherhood and that I would be accepted as a family member and I liked it. I didn't know there was a beating part and being taken to the bush.
"I didn't like that. But you have to go into it. What I always avoided then was the assignments. I was just like a floor member. I would go to meetings and when assigned to do something and I couldn't, I had to look for someone to do it and pay for it. I was not really happy but I was there."
He Hated Christianity:
The influence of his father rubbed off on him, as he hated the religion upon which his fame now lies. Suleman said his youthful experience caused him to dislike Christianity. He thought many Christians were not sincere. Seeing the pastors collect donations from church members without accounting for the expenditure was a turn-off for him. But that was to change in 1989.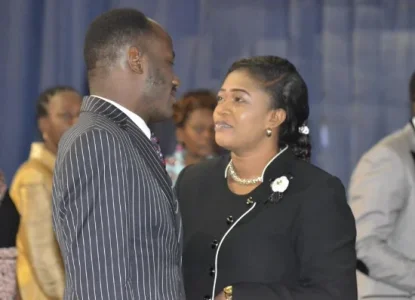 Suleman, with his wife, Lizzy
"I went to bed in December 24, and I woke up on December 26. I didn't see Christmas day. I slept all through. In the midst of that, I was seeing hell, heaven and a voice told me that I was going to be a preacher," he said of that experience.
"I woke up and went to meet a Mallam and he said I should go and do some recitations. But when I went back, I felt beaten."
Suleman established his church in 2004, with its headquarters in Auchi, Edo state. The church is said to have more than forty branches across the world.
He Returned a Private Jet Which a Businessman Gave Him:
In an interview with Vanguard last year, Suleman narrated how he turned down the gift of a private jet. "It is no crime for a man of God to have a private jet, if it is meant to reach the world faster in spreading God's mission," he said.
"But I don't have one yet. The truth is that, I was given a private plane as a gift about one month ago. But God told me that the giver was not pure. So I rejected it. You may have seen the pictures of the jet on the internet. In fact, I collected it. But when I prayed over it and found out that the source of the giver's wealth wasn't sincere, I politely turned it down."
Apostle Suleman is married to Lizzy, and has 5 children – 4 girls, 1 boy.