All Progressives Congress chieftain, Patrick Utomi has opened up on his recent meeting with the incarcerated leader of the Independent People of Biafra - Nnamdi Kanu.
Mr. Utomi told PUNCH that Kanu's continued detention is a violation of the rule of law
He said they discussed the state of the country and perceptions of levels of justice in the country and why the economy is challenged: because of policies of exclusion.
"We discussed what we generally called the democratisation of discontent in Nigeria. That is to say there seems to be unhappiness about Nigeria everywhere around Nigeria, and therefore, the need to change course for the country.
"The whole idea is to create a platform for continuing conversation, to harmonise the views of different people about what the most appropriate solution is to this challenge of malcontent.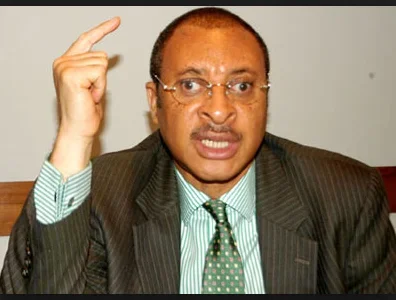 On Biafra, Utomi said he doesn't know about the cause.
"I don't know what that means. I don't think you have met anyone who is more Nigerian than me, both in my upbringing and the things that I have said.
"If you want to evaluate, you just go back to my history and read, and find out if you or anybody you know is more Nigerian than I have been. I was born in Kaduna (State). I was baptised in Jos (Plateau State). I lived in Maiduguri (Borno State) as an infant. I started school in Kano (State); the bulk of my primary education was in Gusau, now in Zamfara State. I started secondary school in Onitsha (Anambra State). Then I had the bulk of my secondary education in Loyola College Ibadan. I attended the University of Nigeria (Nsukka, Enugu State).
"If you check my history, one of the things I am accused of is that I am more Yoruba than anything else. So, I think that you don't need to ask me a question about that.