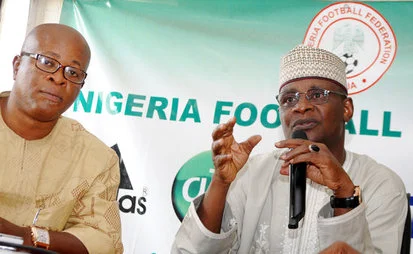 The Nigeria Football Federation(NFF) is budgeting to spend about $800,000 in order to take some entertainment artistes to Brazil for the 2014 FIFA World Cup tournament which commences tomorrow.
Ten Nollywood actors have been shortlisted by the NFF as its guests to the mundial,with the football body taking the responsibilities for their allowances, accommodation, return tickets and local transport.
Also on the entourage of the NFF will be five past ministers of sports; five former NFF chairmen and secretaries,who would all be taken to the tournament,and their own cost has been estimated to gulp about $324, 000. This includes flight tickets,accomodation and allowances.
Their return tickets will set the NFF back by as much $120,000.
It is understood that each of the five past ministers, NFF chairmen and secretaries will be paid $13,600 as their allowance when they return from Brazil.
Also the NFF are said to have reportedly contracted a DJ in Sao Paolo to thrill the Super Eagles team in a club if they make it out of their group at the World Cup.
Nigeria will be playing its first game on June 16 against Iran in Curitiba,before subsequent games against Bosnia and Argentina.