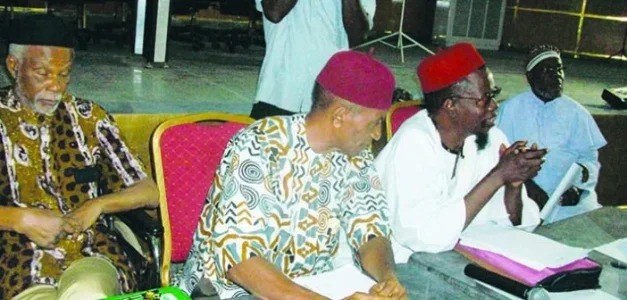 The Igbos are demanding the sum of N2.4 trillion from the FG as reparation for the killings, destruction and pain they had to endure in the South East during the Civil War.
In a letter addressed to President Jonathan and distributed by the South East delegates at the confab, they asked that N400 billion should be given to Delta state where, they said, a large population if igbos were also victimized during the war.
The letter, 28 pages long, is titled "Ohaneze Ndigbo: Atrocities and Injustices Against Ndigbo" and reads:
"The case of the South-East, which bore the full brunt of the civil war for 30 months, is particularly tragic. Most of it remained a wasteland, despite General (Yakubu) Gowon's declaration of the three 'Rs', Reconstruction, Rehabilitation and Reconciliation.

"The federal government should pay N400 billion each to the five states of the South East as compensation to those who lost loved ones and properties and those still suffering dislocation today in Nigeria. The same amount should also be paid to the government of Delta State for the benefit of Anioma area of the state."

"All fair minded citizens of this country are wont to agree that the former Eastern Region and part of former Mid West Region, which encompass the present day South- East and South- South zones of Nigeria were theatres of the civil war which devastated the two regions and brought untold hardships to their citizens.

"The principal function of state, is to guarantee the security and safety of its citizens.
"It is heinous when rather than protect, the state turns its weapons on its defenceless citizens; wages war against them; deliberately imposes policies that marginalized them; refuses to atone for the injuries caused and pretends that all is well. "It noted that the litany of what the Igbos had suffered in Nigeria should be presented if and when the Nigerian government sets up a body to work out the reparation to settle the civil war issue.

"Boko Haram insurgency in parts of the country, and especially in the North East Zone, has brought up the issue of reparation and reconstruction in whatever guise, to the fore and the National Conference through its Committee on Devolution of Power has tackled it headlong.

"Since what is good for the goose is good for the gander, the Conference cannot afford to ignore the yearnings of our people to rehabilitate and reconstruct the war divested South-South and South-East zones through the proposed National Intervention Fund or through any other integrated platform or plan available to the Federal Government.

"Several panels set up by the Federal Government including the Oputa Panel, had approved reparation for war damages, but till date, this has not been addressed."
"Starting from 1945, Igbos have been killed with the connivance of state authorities to appease misguided angers of local people especially on religious grounds," it said."Let us consider than an Indian writer, Rushdie, wrote the blasphemous book against Islam, Igbos living in northern cities of Nigeria were butchered in thousands for something they knew absolutely nothing about.

"The targeting of Igbos for the slightest provocation which the Igbos have absolutely nothing to do with has become so common place and hardly has the government made any resolution to assuage the damages.

"The committee told the president that having played a role in the resolution of the crisis arising from the activities of militants in the Niger Delta, providence had placed him to resolve the Igbo issue. It added,

"Your Excellency may question why now. The Igbos feel confident as a people that you are a man of conscience, a man of equity and above all, a leader who insists that justice must prevail at all times.

"Since the proposed National Intervention Fund is to address the vexed issues of devastation and upheavals caused by an act of war or by outright war itself, that the South East and the South-South zones be adequately taken care of by the fund in terms of the physical infrastructure, rehabilitation, development and other losses resulting from the civil war. That the Federal Government sets up a body to work out agreed reparation to settle the civil war issue once and for all."
"Providence has placed you at the position to resolve this issue once and for all, after all you were pivotal in the peaceful resolution of the Niger Delta militancy. The jackboot approach at Odi and Zaki Ibiam was totally condemned by the civilized world."