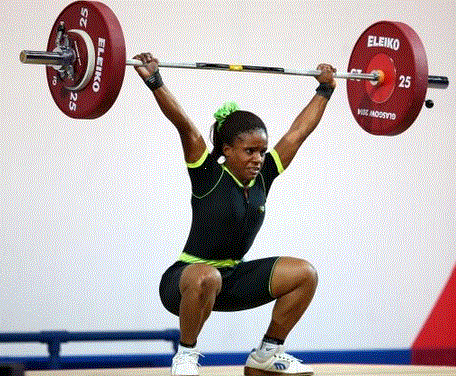 Team Nigeria's good showings at the 2014 Commonwealth Games has been blighted by reports of a weightlifter Chika Amalaha testing positive to drugs.
It represented a dark spot of Nigeria's campaign in Glasgow,where despite limited expectations from the contingent,they still managed to ink the country's name amongst the top nations at the competition.
Amalaha was the trailblazer,the first Nigerian athlete to strike gold in Scotland,before other athletes followed suit.
However all these record breaking feat was marred when on Tuesday the Commonwealth Games Federation(CGF) revealed that a Nigerian weightlifter failed a doping test.
Alas it was Amalaha,the record-breaker for Nigeria who was the culpable party in the shameful revelation.
The 16-year tested positive for diuretics and masking agents after the "A'' sample tested positive for amiloride and hydrochlorothiazide, which are both banned by the World Anti-Doping Agency.
As customary,she demanded for her 'B' sample to be tested which turned out to be the same thing.
Now the big question that has been on everybody's lips: "how did a 16-year old lay her hands on such drugs?"
Clearly it didn't just make an entry into her system without someone not having played some tricks for it to be so.
Apparently there has been some inducement along the lines,some people must have indulged in a foul play.
"It shows we have a very robust anti-doping program in place," Commonwealth Games Federation chief executive Mike Hooper said. "It sends a strong message to anybody in any sport that if you go down the path of doping, any substance to enhance performance, they will be caught ... it's an ongoing battle."
Does it make sense that an athlete would deliberately spike her system to boost performances,knowing that if caught would be thoroughly disgraced?
There is total conviction from the top echelon of the Commonwealth that Amalaha has been misled by her advisers.
The coaches and officials are believed to be very culpable in this whole saga,as it defies belief how a 16-year old could lay her hands on drugs.
Nigeria's Sports Minister Tammy Danagogo corroborates this,adding that he believes that she is innocent and went further to warn that officials as well as coaches who are found to have aided any form of cheating would be severely punished.
"The reported first sample drug-test failure of our female weightlifter is very embarrassing and I feel so saddened although I'm still convinced that the 16-year old Amalaha is innocent," the minister said.
"Nevertheless I must use my office as Sports Minister to enshrine tenets of integrity and fair competition in our sports, especially as it concerns the youths.
Warning that "Officials and coaches who are found to encourage or condone cheating of any kind would face severe sanctions."
But even if Amalaha was oblivious that she had taken drugs,it didn't stop the CGF from stripping her and sending her out of the competition
After her hearing on Friday,the CGF outlined her wrongdoings to the Nigerian Olympic Committee(NOC):
"Further to your (Amalaha) appearance today at the federation's court (CGF) we hereby notify you that the court has decided that you have violated its rules through the use of banned drugs.
"The class of substances contained in her urine sample collected on July 29, 2014 are diuretic and masking agent as well as Hydrochlorothiazide.
"The court decision is that the following sanctions be imposed on you; that you are fully suspended from the 2014 Commonwealth Games.
"That you are disqualified from the 53kg weightlifting event within which you took part at the 2014 Commonwealth Games with all results nullified.
"That the gold medal and price awarded to you should be forfeited and returned.''part of the statement read.
The thing is that those people around Amalaha have let down. Allowing her spike her system and thinking that she will go undetected is foolhardy.
It started becoming suspicious when Amalaha set a Commonwealth Games records in her weight category with a total of 196kg,and the fears were confirmed true when she turned out to have doped.
There is no doubt that negligence has played a huge part in this mess,Nigeria's doyen in sport,weightlifting has found itself.
Nigeria's weightlifting team didn't compete at the 2002 Commonwealth Games in Manchester because of a doping ban imposed in 2001 after four members of the squad failed drug tests.
Even if this act was committed without the complicit knowledge of the Nigerian officials,it behooves on them to make sure that all their athletes are kept in line.
Constant monitoring is required to forestall any untoward event that would arouse tainting the country's image.
Amalaha's antecedence speaks volumes,and she is one weightlifter who has shown tremendous promise.
She won three gold medals at a championship in Malaysia,and yes she didn't test positive to any drugs.
So what went wrong in Glasgow? somewhere along the line water must have entered through the wrong channel.