The leadership crisis which has hit the Peoples Democratic Party (PDP) for some time now has permeated the Forum of state chairmen of the party.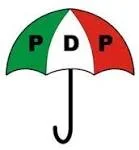 The chairmen, who met in Abuja, yesterday, announced the removal of Alhaji Y.Y Suleiman-led executive committee and elected Hon. Paul Ekpo to pilot the affairs of the forum. But Suleiman, who is chairman of Abuja chapter, said that the meeting was a stalemate, and therefore there was no change in the leadership.
Suleiman led a faction of PDP state chairmen on solidarity visit to the Senator Ahmed Makarfi-led National Caretaker Committee in June last year. A statement issued at the end of the forum's meeting, said 19 out of the 37 chapter chairmen were in attendance while eight others were unable to attend due to some commitments in their states. Surprisingly, Suleiman's name was missing in the attendance list.
According to the statement:"After several deliberations on the state of affairs in the party and in the nation in general, the state chairmen acknowledging the dexterity of the caretaker committee unanimously declared support for the Senator Ahmed Makarfi led National Caretaker Committee."
Suleiman, who spoke later in a telephone interview, said that the statement should be discountenanced, adding that "a proper meeting" of the forum would hold Tuesday at the residence of Senator Makarfi.
Chairmen of Kogi and Plateau states who were with him also corroborated his claim. PDP state chairmen have been factionalised between those in support of Makarfi and others who identified with the Senator Ali Modu Sheriff faction.
Meanwhile, the party will hold a dinner this Tuesday for members of the Strategy Review and Inter-party Affairs committee that drafted a blueprint for the reorganisation of the party.