Comrade Moremi Ojudu, the outspoken daughter of the Special Adviser to President Buhari on Political Matters, Senator Babafemi Ojudu has called out APC Chieftain Bola Tinubu for selling Nigerians using Lagos as a model.
She stated this in a letter addressed to APC leader, Aiswaju Bola Tinubu, titled : You Should Nigeria using Lagos as a Model.
READ:
'A LETTER TO ASIWAJU BOLA TINUBU (We want a 'Change' - You sold us Nigeria using Lagos as a Model):
Greetings sir,
Permit me to take the liberty of your well established role as a political gadfly to write to you over sundry issues that ails our country, Nigeria. It is discernible that the economic/economy ails badly and our politics continues in its well established toxic-nature even as assurances are given to the contrary by the current political leadership. I don't need to tell you of the democratization of hunger, depression and general discontent which has manifested in very grave security challenges stalking and threatening to torpedo the already fragile Lugardian house.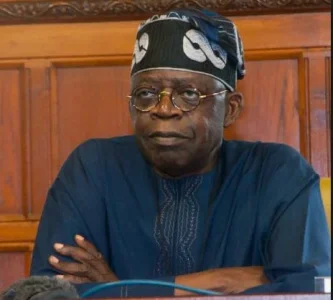 Your antecedence as a worthy touch-bearer of ennobling ideals, especially on democracy, rule of law, federalism and bantering of ideas with heavy dose of respect for the best is currently under threat and I wonder, perhaps if you who inflamed the younger generation with courage, determination and radicalism would want history to say otherwise of you.
You have laboured your entire political career and have won the respect and admiration of even your fiercest opponents because of power of conviction by which you have espoused with insight the afore-mentioned ideals but currently, since the party, the All Progressive Congress, (APC), came to power in the historic election of 2015, there seems to be a gradual withering of your ideals, perhaps in your well-meaning desire to help put your party on very strong footing.
Alas, the ship of state is currently sailing into an avoidable storm because the current leadership of the country which is enamoured to anachronistic methods of running a multi-ethnic, religious and politically sensitive state such as ours. The President's disposition to issues of governance is not inspiring to say the least and this is without malice or prejudice to his best of intentions. Hence, we ask whence cometh the change we voted for in 2015.
Looking around and in fervent discussions with lots of friends and acquaintances, it appears we have invested our hope and return on investment is not commensurate. This is my personal opinion and I
would continue to pray that I am wrong but something within me tells me loud and clear, that I am right and that it might grow worse with time.
'Asiwaju' Sir, I am afraid at this discovery and impelled to ask your intervention as we continue to drift in the wilderness of economic hardship and political uncertainty. Your astuteness and political savvy acquired and exhibited over two decades is at stake, so is your reputation as a progressive. We are calling upon you to do what you are endowed by providence to do.
Accept the assurances of my continued best wishes.
Moremi Ojudu'