Nwanga Chidiebere, a 16-year-old boy is currently admitted at the Federal Teaching Hospital, Abakaliki (FETHA), Ebonyi State. Chidiebere, a male servant, was allegedly attacked with hot water by a female doctor at FETHA, Jane-Glad Ugba.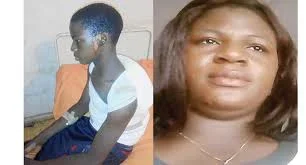 Chidiebere is hospitalised at the Plastic Surgery Department of the hospital following the attack.
Recounting his ordeal on his hospital bed, Chidiebere explained that he had just returned from school on the fateful day and was about washing clothes when his boss asked him to go and boil yam which her children would eat.
He said while the yam was on the stove, he decided to start to wash the clothes, with plans to check it from time to time. According to him, while he was still washing, Ugba asked her eldest son to go and wash the plates. Chidiebere disclosed that the boy left the door open while he went to clean the lines on which he would spread the clothes.
The JSS 3 student of Presco Secondary School, Abakaliki, said while he was cleaning the lines, his boss started yelling that he left the door open. He said: "I told her that I was not the one that left the door open but her son. While she was still scolding me, her husband came out and asked me to lie down despite my plea that I was not the one who opened the door and I immediately lied down.'' Chidiebere explained that as he was still lying down, the woman walked to the pot and started yelling that he left the yam to get burnt. He added: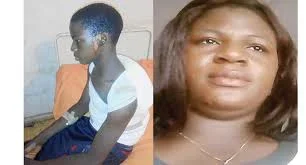 "In anger, she grabbed the pot and emptied the whole hot content on my back and it injured me seriously. "The pain was so much that I ran outside where I almost cried out my eyeballs from their sockets. She then asked me to go and clean where I washed clothes and after that I should pack my things and leave her house that she did not want to live with me again."
The victim said he went to see the sister of his 'Oga' (Mr Ugba) who, after seeing his burnt skin, called her brother. According to him, Mr Ugba asked him to come back home but before he got home, they had already locked the gate. He maintained that he had to sleep in a Skeletal Assemblies of God Church site around Goddy Ogbaga Avenue until the next morning when he went back to his madam and found out that the gate was still locked. With nowhere to go, Chidiebere said he roaming about when a female member of the Nigeria Security and Civil Defence Corps (NSCDC) accosted him and asked him why he was loitering about.
According to him, the NSCDC official threatened to arrest him before she noticed the burns on his face and asked him what happened. He said after his explanation, the officer took him to the hospital. Chidiebere added that his 'madam' did not know his whereabouts until she came to work and saw him on admission.
Efforts to reach the doctor were futile. Our correspondent was not allowed to speak with work or in her house. When contacted, the state Police Public Relations Officer (PPRO), ASP George Onuorah, confirmed the incident. Onuorah disclosed that Ugba had been arrested and arraigned in court.
Source:
New Telegraph