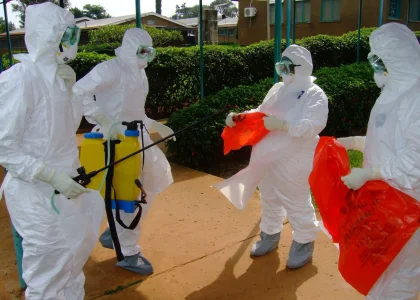 Minister of health, Prof Onyebuchi Chukwu speaking in Abuja on Friday said the deadly #Ebola virus imported into the country by Liberian Patrick Sawyer has been contained and all entry points into the country are on red alert.
"On July 22, 2014, the federal ministry of health was alerted on a suspected case of Ebola Virus Disease (EVD) in Lagos involving a 40-year-old male travelling from Monrovia, Libera, to Nigeria on Asky Airline via Lome to Lagos," he was quoted by #TheCable as saying.
"The passenger presented with fever, vomiting and diarrhea on arrival at the airport. He was then handed over by the airline to the port health services of the federal ministry of health (FMOH), who quickly isolated him and transported him straight to the hospital, avoiding contact with the general public.
"The patient was subjected to thorough medical evaluation where laboratory investigations were carried out. His blood sample was taken to advanced laboratory at the Lagos University Teaching Hospital, which confirmed the diagnosis of Ebola Virus Disease. The result was corroborated by other laboratories outside Nigeria."
Confirming that the patient passed away at a Lagos hospital, he assured Nigerians that the ministry was working with other ministries, agencies, international organisations and the Lagos state government to prevent the possible spread of the virus.
He maintained that measures had been taken to contain the spread of the disease, as all passengers whom the patient came in contact with had been traced and were being investigated.
"In line with the WHO international health regulations and in keeping with international best practice, all ports of entry into Nigeria, including airports, seaports and land boarders are placed on red alert. Ministry of health specialists have been positioned in all entry points. Active surveillance has also been stepped up," he added.