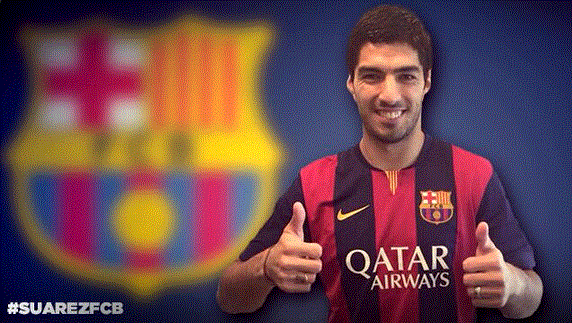 World football governing body,FIFA has confirmed that Barcelona will not be having the honours of unveiling their new acquisition,Luis Suarez.
Barcelona and Liverpool last week reached a transfer agreement for the Uruguayan player,but the basis of his ban by FIFA entails that he will not be entitled to some things for a stipulated time.
Suarez is serving a four-month ban from all football activities following his biting incident on Giorgio Chiellini at the World Cup,and one of the conditions involves him not being close to a stadium.
Barcelona were hoping to unveil Suarez on Wednesday in a non-football venue so as to circumvent the stadium ban,but FIFA said that such moves will be contravening the rules of the ban.
FIFA's head of media Delia Fischer told Press Association Sport: "The ban relates to all football-related activity. He cannot be in a football-related public event irrespective of the venue.
"He cannot even be involved in a football-related charity event."
FIFA rejected Suarez's appeal on the ban,and it is expected that the player will now turn to the Court of Arbitration for (CAS) in a last bid attempt to have the ban rescinded.
Suarez's lawyer Alejandro Balbi on Friday told Spanish radio station Cope said that the punishment was "blatantly draconian, totalitarian and fascist".
"The right of a footballer to work is being violated, and football should be worried about that.
"The nine (international) games may seem excessive, but the fact that he can't watch a game of football, or train or carry out his job, we are talking about unpleasant things."
Photo Credit:
@FCBarcelona