Ile-Ife, an ancient town Osun State was yesterday thrown into turmoil as Yoruba and Hausa took up arms against each other in the Sabo area of the town.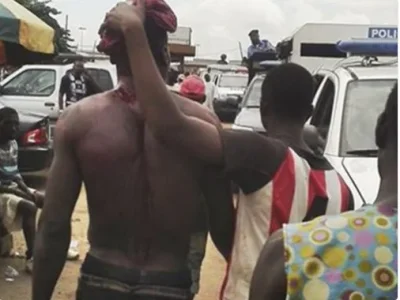 The Magaji of Hausa community in Ile- Ife and secretary to the central mosque in the town, Alhaji Nasir Magaji has explained the cause of the mayhem.
Magaji explained that a Hausa man allegedly slapped a wife of a Yoruba man, Kuburat, who was a pure water vendor.
He said: "It was Kuburat that provoked the Hausa man who slapped him and that after slapping her, many Hausa people were not in his support as they scolded him for doing that, but the Yoruba who were not pleased with the situation, retaliated by beating the Hausa man and others.
Hence, the Hausa fought back." The incident was said to have generated controversy between the Yoruba and the Hausa living in the community on Tuesday when the act was perpetrated.
However, it snowballed into bloody violence in the early hours of yesterday. It became a free for all where dangerous weapons such as guns, arrows, swords, machetes, daggers and clubs were used.
Witnesses said that the people organised themselves into two formidable groups to match each other strength for strength in the fierce battle which led to the killing and maiming of innocent people as well as destruction of property believed to worth several millions of naira.