The Commissioner of Police in Kwara state, Olushola Amore, has shut down a training camp of Peace Corps of Nigeria in Offa local government area of the state, describing it as illegal.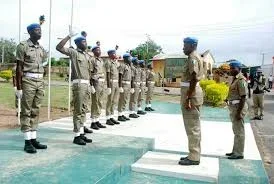 The Command's Public Relations Officer, DSP Ajayi Okasanmi, confirmed the development on Friday in Ilorin, saying the Commissioner viewed the camp as illegal, hence the shutdown.
The Peace Corps is a volunteer programme run by the United States Government since 1961 and to date, nearly 220,000 Americans have joined the Corps and are serving in 141 countries.
Okasanmi explained that there was no information to the effect that a camp will open in Offa to train anyone.
He said, "We were not officially informed about any camp in Offa and we don't have any information about any organization organising any camp there.
"There should be no training or camping of any organization without the knowledge of the police.
Reacting to the incident, the Kwara Adjutant of the Peace Corps of Nigeria, Dr. Folorunsho Peter, denied the police allegation that his command did not inform it of its orientation camp.
He said, "Some persons came and wanted to partake in the training and they have not paid their dues and met resistance from our officers on the ground.
"The police came in and said the issue has not been properly resolved and that we did not obtain clearance to operate.
"We have properly informed them of our plans, we served them our timetable for the orientation camp.
He said applicants have been told to report to the Command's headquarters in Ilorin on Monday, February 20, and that camping will resume again on Tuesday, February 21.
No fewer than 5, 000 applicants from across the country came for the orientation in Offa.
NAN