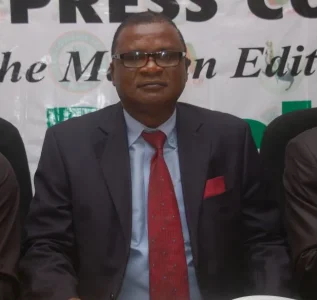 Reports have emerged that the Acting president of the Nigerian Football Federation(NFF) Mike Umeh, was arrested and later released,with claims that the National Sports Commission (NSC) wants to intimidate him into submission and stepping aside for them to install their own candidate for the NFF elections.
The NFF has been engulfed with crises following the impeachment of Aminu Maigari as president of the football body,and the forthcoming elections on the 26th means there would be lots of intrigues.
Umeh was arrested by operatives of the State Security Service on Tuesday, and was released subsequently after questioning.
"He was told that he had no authority to hold an executive committee meeting without the approval of the National Sports Commission (NSC)," a source allegedly told This Day.
Already speculation are rife that Umeh's arrest can be traced to the general elections of the NFF coming up in Warri,Delta state.
Some aspirants were denied from access to purchase forms for the elections,of which Umeh was among,with Shehu Dikko another of the aspirants who couldn't buy the form as well.
"We have received phone calls, phone messages and emails, and there have been media reports of persons being denied forms for unclear reasons," Umeh said.
"The litany of complaints and widespread condemnation has been deafening. The best legacy that this team can give to Nigeria football is a flawless electoral process leading to credible elections."
The ministry was said to have told Umeh that he did not have the powers to hold an executive meeting of the NFF without getting express approval from the NSC.
Last edited by a moderator: