The National Youth Service Corps (NYSC) has introduced a biometric technology for the corps members' monthly clearance in South West, a development that will expose those who absent themselves from their places of primary assignment.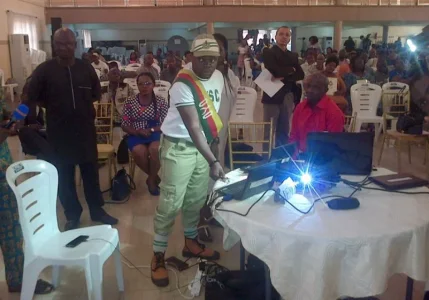 The Director General of NYSC, Brig-Gen Suleiman Kazure made this known in Ibadan at the opening ceremony of the training workshop on Biometric Clearance of Corps Members in South West.
He said that biometric technology will not only address absenteeism during service year but will also address the problems of irregular signatures leading to non-payment of monthly allowance, and poor collation and storage of data of corps members.
The training was organised for all heads of corps inspection and monitoring branches, ICT desk officers, zonal and local government inspectors of the South-West.
Kazure, who was represented by NYSC Director of Corps Welfare, Mrs Victoria Okakwu said, "This new process has received great ovation from the public for its positive impact in areas such as elimination of sharp practices perpetuated by fraudulent individuals and reduction of errors in our data and workload on our staffs, corps members and other stakeholders.
"Furthermore, the improvement on the new process also brought about the introduction of the use of biometrics for mobilisation and registration of corps members at orientation camps which has not only helped in fast tracking the process, but also reduced impersonation and registration in prozy including ineligible graduates."
Kazure noted that the feedback from the North West zone, South East zone and the two pilot locations of Lagos and Abuja had been very encouraging and positive, adding that he believed that South West zone will also be successful.