Civil servants in Ondo State on Thursday blocked the main gate to Government House in Akure, preventing Governor Olusegun Mimiko from entering.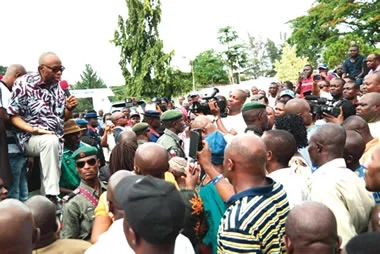 The workers commenced the industrial action last week Wednesday to protest the non-payment of their five-month salaries.
The governor, who was forced to come down from his vehicle to address the protesters, pleaded with them to suspend the strike, saying the state did not have enough money to pay the accumulated salary arrears.
The protesting workers, led by the State Joint Negotiation Council chairman, Sunday Adeleye; the state Chairman of the Nigeria Labour Congress, Bosede Daramola; and her Trade Union Congress counterpart, Soladoye Ekundayo, rejected the governor's plea.
Mimiko said the government was ready to pay health and local government workers and teachers, to enable it to inject some money into the state economy, adding that when health workers resumed work, they would be able to meet the medical challenges of the people.
Mimiko appealed to them to call off the one-week old strike and considered his commitment not to retrench any worker in spite of the dwindling resources.
While saying the continuation of the strike would only retard the economic growth of the state, the governor charged the people of the state "to see the present situation in the country as a collective challenge that we must face and proffer solutions to."
He added, "We are in a very difficult time in Nigeria and I have absolutely nothing against your protest. I can't imagine somebody working diligently or not too diligently but worked for five months without pay, especially in an economy that depends mainly on salary.
But the governor effort to convince the workers fell into deaf ears as some of them continued to shout "no salary, no work", intermittently.
Responding to the governor's address, the state chairman of JNC, Adeleye, declared that if the workers had no signal that the state government was ready to pay their salary arrears, the indefinite strike would continue.
Apart from the Government House, the workers also stormed major roads in Akure, the state capital, to continue the protest.