The minister in charge of Gracious and Mercy Prophetic International Church, Egbeda, Lagos State, Pastor Ejimozor Williams, has lost his sight due to a torture he allegedly suffered in the hands of some operatives of the Department of State Services in Lagos.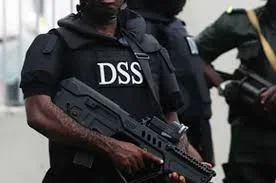 The 46-year-old pastor's house in the Ayobo area of the state had been invaded by the security officials after his houseboy, identified simply as Chukwujekwu, defrauded some residents using fake dollars, Punch learnt.
Punch gathered that when the officials failed to arrest the suspect, who had fled, they ransacked Ejimozor's home and found some of the counterfeit currency.
He was reportedly bundled into a DSS operational van, where he was subjected to different forms of torture.
Ejimozor said he formerly owned a hotel and a house in Abuja, which were demolished by the Federal Government, adding that he later relocated to Lagos to start a new life.
He said, "I started working as a freight worker at the Apapa port where I met the houseboy. Someone actually introduced Chukwujekwu to me and I decided to help the boy.
"After some time, he told me that he wanted to travel and that I should borrow him some money. I told him I didn't have any money, so he went to meet a man called Okoye, an old friend of mine. Okoye gave him some fake dollars."
He added that Chukwujekwu showed the dollars to a barber in the area, saying his relative abroad sent him the money and could also help the barber secure a visa to travel overseas.
The barber allegedly parted with N30,000 for the visa and handed the suspect his passport.
Chukwujekwu reportedly fled the house after defrauding several other residents on the street.
"On May 9, 2014, I was at home when about six persons scaled the fence into my compound. They wore black shirts and were armed.
"They conducted a search and found the fake dollars Chukwujekwu used to defraud people in the area. They said I should sign a statement, but I refused. They beat me up," he added.
He explained that he was put in a DSS vehicle and taken away.
He said when he asked what he did wrong, one of the gunmen hit him with the butt of a gun in the head, threatening to kill him.
Ejimozor said a part of his skull was compressed after the assault, adding that he was later driven to the DSS office on CMD Road, Magodo, Ketu-Ikosi.
"The DSS later said before they would release me, I must pay N15m which I didn't have. I told them that all I had was N20,000. After another round of torture, I fainted and was rushed to a clinic where they told them that my blood pressure was low."
He was reportedly remanded in the Ikoyi Prison pending when he would fulfil his bail conditions.
However, while in the prison, the victim said he had a migraine and was rushed to a hospital.
"This led to a partial stroke. I was at home some weeks later when everywhere suddenly went blank. I couldn't see anything again and that was how I went blind.
"Now, I cannot do anything for myself and my family. I am frustrated. I also have diabetes and high blood pressure," he added.
The Lagos DSS could not be reached for comment as of the time of filing this report