Former vice-president, Atiku Abubakar, has fast tracked his political consultations to secure maximum support to run for his 2019 presidential ambition.
Atiku was in Minna on Tuesday, February 14, to welcome the former head of state Ibrahim Babangida from medical trip but sources told the New Telegraph that the visit was more than a get-well quick visit as he used the occasion to discuss the state of the nation, health of President Muhammadu Buhari and the 2019 presidency.
Sources informed New telegrpah that the Peoples Democratic Party (PDP) was pressuring Atiku to run for president under the platform of the party in 2019
"You know, he (Atiku) has been under pressure, especially from the opposition to run for the presidency in 2019, a source, who did not want to be quoted because he does not speak for Atiku, said.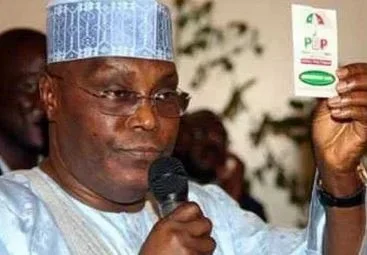 "The pressure is coming from the PDP and he has been consulting on that for some time. We know he might not get the ticket with the All Progressives Congress (APC) as currently constituted but the opposition has been asking him to run," a source disclosed.
"He cannot endorse the APC government currently. The performance has not been good. It is not something he would even want to say much on now," the source said.
A top PDP leader, who is a former senator and minister, said Atiku would return to the PDP and pick the ticket of the party in 2019.
The leader said though former president, Olusegun Obasanjo, has been an obstacle to Atiku in the past, the battle for 2019 would end that.
TRENDIGN:
Atiku - Why I Visited IBB
- New Telegraph