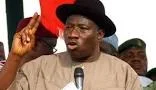 The Federal Government on Thursday defended its decision to borrow $1 billion (N160 billion) to enhance security forces in the battle against the insurgent Boko Haram group.
The proposed loan was revealed on Wednesday when the Senate President, David Mark, read a letter by President Goodluck Jonathan seeking permission from the Senate to borrow the money.
"You are no doubt cognisant of the on-going and serious security challenges which the nation is facing, as typified by the Boko Haram terrorist threat. This is an issue that we have discussed at various times," Mr. Jonathan wrote in the letter.
"I would like to bring to your attention, the urgent need to upgrade the equipment, training and logistics of our Armed Forces and Security services to enable them more forcefully confront this serious threat.
"For this reason, I seek the concurrence o the National Assembly for external borrowing of not more than $1 billion dollars including government to government arrangements for this upgrade," he added.
There have been nationwide criticisms since the proposal was made public as Nigerians questioned the trillions of naira already budgeted and spent on the military to defeat Boko Haram in the past few years.
But on Thursday, the federal government defended its decision take the loan, saying it would not only be used to prosecute the war against insurgency but to adequately equip the armed forces.
The Coordinator, National Information Centre, Mike Omeri, stated the government's stance while interacting with journalists at the Centre on Thursday.
Mr. Omeri, who is also the Director General of the National Orientation Agency, also said that the war had not depleted Nigeria's resources.
"It is not out of place for a country to re-enforce its military capability and it (loan) should not be mistaken that the resources of Nigeria has finished. The loan being sought is not just to prosecute Boko Haram war, it is to re-enforce the armed forces," he said.
The military and the federal government has been criticised locally and internationally for its handling of the Boko Haram crisis.
Over 13,000 people have been killed since the insurgency began in 2009 with the Human Rights Watch documenting about 2,500 deaths in 2014.
Mr. Omeri also shed more light on efforts to apprehend Abubakar Tsiga, the major suspected mastermind of the April 14 Nyanya bomb explosion that killed over 75 people.
One of the alleged mastermind, Aminu Ogwuche, was on Wednesday repatriated to Nigeria from Sudan where he allegedly fled after the explosion.
Mr. Omeri said Mr. Tsiga remained wanted, adding that security forces were trailing him.
"At the appropriate time, we will let you know because sometime there is information that you give out that will facilitate the disappearance of suspect," he added.