Yesterday, the Supreme Court upheld the election of Governor Nyesom Wike of Rivers State.
Here are two good reasons why the verdict was in favour of Nigerians:
You can READ:
Supreme Court Upholds Wike's Election as Rivers State Gov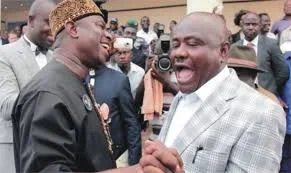 1.
It has saved some money:
The judgement has saved not only Rivers state but Nigeria as a whole some money. Everyday we keep crying no money, economy is dry yet some people were still advocating for a re-run. A re-run election in Rivers state will gulp millions if not billions of Naira as both leading contending parties will fight to the last to claim the state and the irony of it is that tax payers money will be used. This is turn will make whoever wins to use the re-run election in giving excuses of no money when it is time to work.
2.
Averted Loss of lives
: If Bayelsa with only 8 LGA's could claim as much amount of lives as it did in the last election, imagine how many lives Rivers state with 23 LGA's would have claimed. The election would have been a do or die affair for both parties with the citizens as casualties. 3
3.
Saved the Day for another Inconclusive election
: the judgment saved INEC and Rivers REC a lot of headache in thinking of measures and activities to put in place within the next 90 days.