Three Nigerians, one of them a woman, according to Ghana Broadcasting Corporation were yesterday arrested for allegedly possessing forged Ghanaian passports.
Though the passports bear Ghanaian names; Emmanuel Kwafo, Richard Bioh and Cindy Ayim, officials of the Document Fraud Expertise Centre of the Ghana Immigration Service (GIS), found out that the names were not the actual identities of the suspects.
Investigations conducted by the GIS showed that the real identities of the male suspects were Emmanuel Ihueze, 28, and John Nkwocha, both welders, while that of the woman was Zeinab Kofoworola Kasali, 24, a student.
Head of the Document Fraud Expertise Centre, Mr Frederick Baah Duodu, said the two men were arrested at the Kotoka International Airport (KIA) while attempting to travel to Kuwait with forged Ghanaian biometric passports.
He said the men, who were intercepted about 8:30 p.m. on July 3, 2014, claimed they had arrived in Ghana a month ago and lodged at a hotel after paying two agents to acquire passports for them.
The two suspects claimed to have paid $5,000 each to two agents, one of whom they identified only as Uche.
Mr Duodu said an examination of the passports revealed that the bio-data page was a counterfeit, even though the passport booklet was a genuine Ghanaian passport with all the security features.
The passports, with numbers G0485026 and GO724578, indicated that they were issued on June 2, 2014 and would expire on June 1, 2019.
According to Mr Duodu, Zeinab was intercepted by immigration officers at the John F. Kennedy (JFK) Airport in New York on July 1, 2014 with a passport indicating she had travelled on an airline from the KIA, Accra.
He said the immigration officials at the JFK Airport were suspicious of the American visa in the passport and, therefore, questioned the holder. She was subsequently deported to Ghana on July 5, 2014.
On her arrival, Kasali's case was referred to the Document Fraud Centre, where the immigration officers, after careful examination, found that the passport was not genuine. It was also discovered that she was a Nigerian who had attempted to use a Ghanaian passport to travel.
During interrogation, Zeinab was said to have told the immigration officers that an uncle whose name she gave as Obuma Okafor had acquired the passport with a visa for her to enable her to travel to the United States.
The uncle is currently on the run.
During a search on the system at the KIA, the immigration officers retrieved a scanned Nigerian passport with number AO1930718 with the picture of Zeinab.
According to Zeinab, she had paid $5,000 for the passport and $2,000 for the ticket. Mr Duodu said the suspects would be handed over to the Anti-Human Smuggling and Trafficking Unit of the GIS for further investigations.
He warned foreigners, especially Nigerians, to desist from using Ghanaian passports and other travel documents, saying the GIS "was always ready to clamp down on illegal acquisition of Ghanaian passports by fraudsters."
#Nigeria #Ghana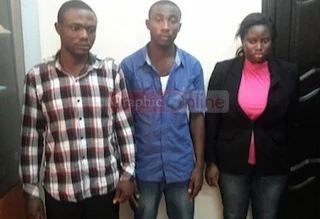 Pic: Graphic Online