Two persons believed to be herdsmen have been killed at Umuoba-Anam in Anambra East Local Government Area of Anambra State by yet to be identified persons, even as the state police command said six persons arrested over the incident were helping in the investigations.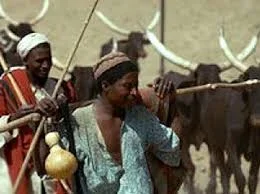 The Anambra State Commissioner of Police, Mr. Samuel Okaula, said yesterday that the command had already deployed a large number of policemen to the area to maintain peace and to prevent reprisal attack.
South East leader of Cattle Breeders Association, otherwise known as (Miyetti-Allah), Alhaji Sadiq Gidado, told reporters in Awka that the incident took place at the area where the two men and others were grazing.
According to him, the herdsmen were at their grazing ground at Eziagulu-Otu community and later decided to go to Otuocha market to buy something, when they were allegedly abducted by some youths.
Gidado said the two persons had not been seen since the incident, adding that while their caps and shoes, which they took along with them to the place, had been recovered, their motorcycle had not been seen.
"If they were killed, all we want to see is their bodies and we will be satisfied. I don't know why some people want to cause trouble after the peace accord we signed with the state government and security operatives in Anambra State," Gidado said.