Nigerian artiste Barz has accused Kiss Daniel and Sugarboy of stealing his work.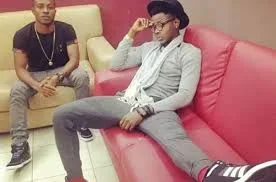 The accusation was made by Barz' management, The Silent Music Company (TSMC). See statement below:
"A song titled 'kilamiti' was created by our artist BARz @iam_barz, produced by LuisAMG @luisamgondeck and had Sugarboy @sugarboygww of G worldwide featured on the song. We contacted Sugarboy's management when we wanted to drop the song back in June 2016 and we have chat evidence of sugarboy telling me and I quote "my management get strict policy on featuring. Abi u don see kiss daniel on any song wey dem feature am? but una fit drop the song, i no go fit dey the video sha"
"The song was later dropped on all the major blogs in Nigeria, Ghana and UK and promoted on June 11 2016. Most of the radio stations in Nigeria have played this song, the video was also shot by Director Q and dropped November 2016 without sugarboy involved, and the video has been promoted and played on vaious platforms and TV stations.
"Today a copyright of our artiste's song was dropped by Sugarboy feat Kiss Daniel titled 'Kilamity' as against "Kilamiti" with the aid of same producer LuisAMG. (We also have prove of online banking transfer showing we paid off the producer for his job done). We are making this press release because we want the general public to know the injustice which have been done to us and our business. We definitely will have our lawyer look into this matter and will share with the world on its progress. Thank you for your time."