Adamawa state governor, Muhammed Jibrilla transmitted a letter to the State's House of Assembly, intimating it of his intention to proceed on two weeks vocation, effective from March 20, 2017. Soon after the approval by the legislature, he handed over power to his deputy, Martins Babale, to assume office as Acting Governor.
However, the letter Bindow transmitted to the parliament does not inlcude where he is taking his vacation to or perhaps he wants to receive treatments of a particular ailment. Need to say that the demands of office of a state executive is bogus than it appears.
A check on the Governor's social media profiles, also does not suggest his whereabouts. Where is Governor Bindow Jibrilla?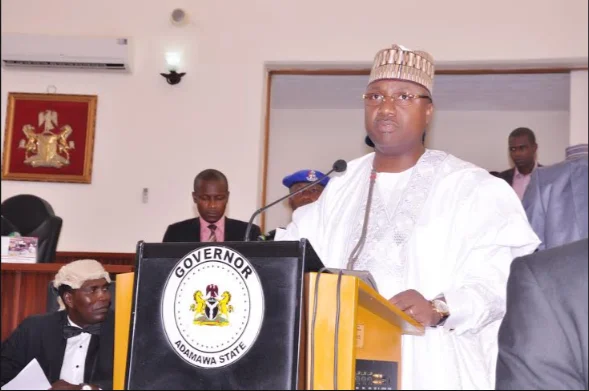 The vacation of President Muhammadu Buhari is still fresh in the minds of Nigerians – reasons why we must be alert to what happens to our public office holders. President Buhari returned to Nigeria after seven weeks of medical leave in the UK.
The absence of the 74-year old lethargy, former military ruler led to some anxiety in Nigeria with people speculating about the president's health. Vice-President Yemi Osinbajo was left in charge.
Buhari had left Nigeria for Britain since January 19, 2017. He was supposed to return back to work on the 6th February, 2017. However, in a written statement to the National Assembly, he informed the parliament of his desire to extend his leave in order to complete a pending series of tests recommended by his doctors.
When he returned March 10, Mr Buhari did not reveal any details of his condition. He only said he was "feeling much better now" but added that further medical checks would be required.
This is not to say Governor Jibrilla is ill or went on a medical vacation, but his whereabouts should be of utmost concern to members of the public. His aides should also do the needful to avoid various speculations.
While President Buhari was away, Governor Jibrilla offered special prayers in mosques and churches for the speedy recovery of the President. One can only hope, with time, that he doesn't fill in the stead of Mr. President. But, before then, where is Governor Bindow Jibrilla?