Lagos State Governor, Mr. Akinwunmi Ambode on Tuesday said the plan of his administration to transform Oshodi into a world class transport interchange in the next 13 to 16 months would go a long way to depict the regeneration plan of the State.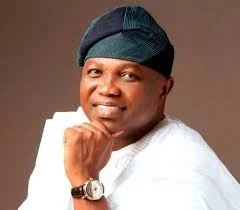 Governor Ambode, who spoke at the Lagos House, Ikeja during a meeting with key stakeholders on the planned transport interchange, said by the time the project is delivered, the fear of insecurity must have been totally removed from the area..
While pleading with the stakeholders to support the project which is billed to take off on June 1, 2016, Governor Ambode said the interest of market men and women and transporters have been taken care of, as they would make more money compared to what they are currently making.
He said: "We want the people in Oshodi to be identified with good and not bad things all the time and that was what made us to decide that the kind of development going on in Victoria Island, Lekki and other places should take place in Oshodi as well. I mean, I find it very disturbing that our children in Oshodi would have to travel to Lekki or Ikeja to have access to good shopping mall. So, what we have decided is to regenerate Oshodi.
"We can take away all these yellow buses and put these other buses but you (drivers) will be the operators, and all we are only doing is to provide you with world class terminals that you would even be asking is this happening in my lifetime. So, instead of scattering ourselves all over, let all of us be in one very well organized and secured place," Governor Ambode said.
Among other plans, according to the Governor, is the provision of about 800 modern buses which would run 24/7 and would convey Lagosians to all parts of the State in a more comfortable arrangement.
Speaking on the market, Governor Ambode said the new transport interchange would accommodate world class containerized shopping mall with recreation and entertainment facilities, while the existing market men and women in Oshodi would be the same people to be allocated with the shops.