Last night, social media went agog with the news that the Federal Government is making moves to ban the consumption of animal hides (
ponmo,
as it is called.)
At Nigerian Bulletin, we wouldn't be so quick to use the 'ban' word. How about 'regulate', perhaps?
As people are generally wont to read headlines alone, few really know why this measure has been embarked upon, and the APC/PDP faithfuls have split in the middle, speculating about the deeper meaning of the
ponmo
ban.
It would be recalled that the move to ban
ponmo
has been under deliberation for quite a while, and the reason for this is simple: Nigeria is losing potential revenue because its citizens would rather eat leather than process it into something of far more commercial value.
Basically, the Federal government wants the hides of animals to be converted into leather, which will fetch more revenue for animal farmers as well as jack up GDP a notch.
That was what the Minister of Agriculture and Rural Development, Dr. Akinwunmi Adesina said.
Vanguard reports it like this:
If regulating the consumption of animal hide is achieved, he noted that livestock farmers would stand good chances of making high dollar return if the hides and skins are tanned into leather.
The minister who was represented at the occasion by the Director, Animal Production and Husbandry in the Ministry, Dr. Ademola Raji, said, "I also commend NIAS for its advocacy and public enlightenment programs on Radio and Television that promote value addition in Livestock, as against sale and consumption of primary products alone, particularly with the issue of curtailing the widespread consumption of hides and skins as Kpomo which ought to be tanned into leather for a very high dollar return to the farmer and Tanneries.
I expect that competent regulations acceptable by all stakeholders will be developed so as to give credibility that our set standards for food safety are being implemented which will boost value addition."
Click here to read more
Source: #Vanguard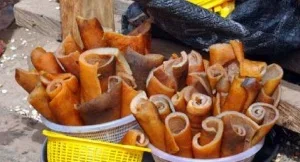 Last edited by a moderator: