A five-year-old girl has accused five of her father's colleagues of rape. The victim, it was learnt, was allegedly raped alongside her three-year-old sister.
PUNCH Metro
learnt that the victims and their father, Ayodele Ekundayo, who is a driver at a cement factory, lived in the same compound with the suspects who all work in the same company.
It was learnt that the company, which is located in the Fagba area of Lagos State, provided accommodation for its employees.
The suspects – John Mahansi, Taiye Ojo, aka
Ejima
, Deji Adenekan, aka
Orobo
and Peter Irobo, aka
Apako
, are between the ages of 24 and 33.
Speaking with PUNCH at the Lagos headquarters of the Nigeria Security and Civil Defence Corps, the father of the victims said he was disappointed when he found out that his colleagues raped his daughters.
He said since he had no wife, he usually left the little girls in the care of his colleagues.
Ekundayo said he discovered the alleged rape when his daughters started complaining about pains in their private parts.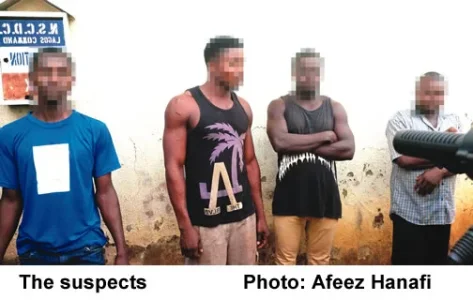 He said, "Five days ago (on Thursday), my younger daughter ran to me and was shouting 'pepper, pepper' pointing to her private parts. She took off her pants and cried when I did not answer her. When I asked her who put pepper in it, she said it was
Apako
.
"I called her elder sister and she confessed to me and narrated all that happened. She said they (the suspects) threatened to kill them if they told me what was going on.
"Others did not talk when I approached them but
Apako
was shouting and threatening me when I challenged him. I am surprised they could do such a thing to my daughters. Those children are precious to me.
"At times, I take them with me to where we offload bags of cement when there is nobody to look after them. My older daughter told me that two drivers,
Ejima
and
Orobo
, used to touch her private parts while I was busy at work. I left my daughters with the security guards, Mahansi and Segun, whenever I was on night duty. I didn't know that they were also defiling my daughters."
The suspects, who were paraded by the NSCDC, however, denied the allegations.
The five-year-old victim, however, told
PUNCH Metro
that she was indeed raped by the suspects.
The victim, who gave graphic details of her encounter, said one of the suspects instructed her to put his private parts in her mouth.
She said, "Yes.
Apako
, John, Segun,
Orobo
and
Ejima
raped me. They put their 'willy' in my 'bum-bum' two times. They kissed me. It was only Apako that put his 'willy' in my sister's 'bum-bum.'"
A resident of Fagba, identified only as Dr. Solanke, was said to have informed a rights group, Ihuoma Girls Care and Support Initiative, about the incident and it later reported at the NSCDC command, leading to the suspects' arrest on Monday.
The Lagos State NSCDC Commandant, Gabriel Abafi, said the victims were taken to the Lagos State University Teaching Hospital on Tuesday for medical examination and treatment, adding that the medical results were being awaited.
He, however, said that a preliminary check revealed that there were bruises in the minors' private parts and urged members of the public not to hesitate to report such incidents to the command.
He said, "We have yet to know what the reason of the suspects was for defiling these little girls. We have just been to the hospital to ascertain the virginity of the victims. There are bruises in their private parts which is evidence that they were sexually assaulted. Meanwhile, investigation is still ongoing."