Ahmed Tanimu, dean of students of Ahmadu Bello University, Zaria, has allegedly confirmed that Senator Dino Melaye graduated from the University.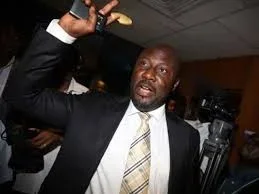 Vanguard reports that the yet to be confirmed statement, circulating in the social media and is said to be from the Dean of Students, Ahmadu Bello University, ABU Zaria, Bar. Ahmed Tanimu.
See the full statement below :
"Dino is a graduate of ABU Zaria. I do not like him but the campaign of calumny and falsehood against him must stop. I recalled a meeting with the then VC, chief security officer Mallam Ashiru."
At the meeting it was resolved that all politically exposed students and unionist must be graduated for peace to reign in ABU.
The VC started by asking me, the then SECGEN ABUSUG, when am I supposed to graduate? I told him I was only in 4 hundred level law then, he then asked after so many other commrades like Anslem, Chris, Ochums, Arokoyo, Ribadu, Renshaw, Kamal, Ntom, SB, Bright, Ganzi, Kombitel, Realman, Kurfi, Kabir Mustspha, Tijani Kabir (refused to graduate and 8 years later became NANS president), Precious Abdul, MB Mustspha, Dino etc……he gave a marching order that the Dean student affairs must ensure that our types are promptly graduated and leave the school in peace and in good time. Referring to all the so called elders and Unionist of ABU then.
The case of Elder Dino as he then was, was even the worst. In truism, Dino never wanted to graduate from ABU. He was benefiting handsomely and almost feeding from Unionism like many Unionist, he deliberately kept having carry-overs so as to remain in ABU against the orders of the VC.
Trust the smart VC Mahdi, he ensured that Dino swiftly passed all his carry-overs. When Dino resisted that move by the VC, he was told by the Dean that the University has the power to pass and graduate any of it's students if they are satisfied that such a student has attained sufficient learning or good character standing(whether he actually pass all his papers or not)."
In Dino's case, the emphasis was placed on his good character and not necessarily the waived passing."
I repeat, Dino is a bonifide graduate of ABU Zaria, Department of Geography and Faculty of Social Science. He has his genuine transcript and certificate. He might have been exempted from NYSC as he was an adult even when in school."