From Oshodi to Mushin, Orile, Ojuelega and other streets of Lagos State, child conductors dare to survive in a world of no food, no shelter and no family. Kemi Busari captures the weird experiences of these children and brings to fore their plight in a hostile society.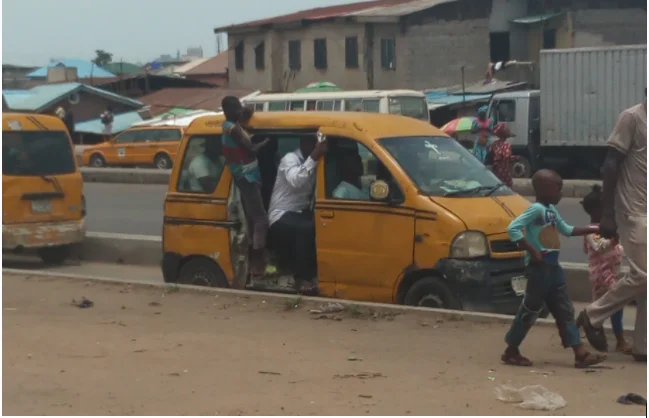 A child conductor scrambles for space at the door of a moving vehicle after a full load of passengers
It is 4 p.m. on a sunny Thursday. Fifteen-year-old Samuel Dickson voraciously gobbles grains of whitish jollof rice from a black cellophane which the seller, who now attends to other customers, served him. Haven decided to skip school on this day, so as to make enough money, that sacrifice, at best, seems futile, having made a pantry N100 since 7 p.m. Seated at the pillars of the under-construction Lagos-Badagry mass transit rail, the fast movement of his meal from the makeshift plate to his mouth better explains his worry - he has to get back to work or have himself and his brothers go to bed on empty stomach.
Opposite his sitting position is the Doyin-Orile-Mazamaza-Mille 2 Bus Stop flooded with mini-buses, mostly painted in yellow and adorned by children conductors hanging loosely on its doors. They call on passengers to get a 'full load' which would either earn them N50 or N20, depending on the driver's magnanimity or in some cases, where he decides their services end.
Business has been slow on this day, but more troubling is the flurry of travails the young Dickson had went through since his journey from Enugu to Lagos in 2014. What ordinarily should have passed for jumping off the frying pan seems to have landed Dickson into a fiery furnace.
"I used to live with my grandma in Enugu but she always beat me and doesn't give me enough food so anytime my parent or any of our relatives came to visit, I cry and tell them I want to go and live with my parent. They arranged my journey and I came to Lagos to live with them in 2014,' he started his story with an indifferent tone that betrayed no emotion.
On arrival, the then 12-year-old Dickson was enrolled at Imoru Memorial Primary School, Coker Orile, where his brothers attend but 'things' changed for the worse quickly. Soon, the incapability of the father, a trader and mother, a food seller came to fore. Less than 3 months in Lagos, he started hawking in traffic at Doyin-Orile and when this seems not to bring enough, he joined the bus conducting ring.
He recounts his journey, "At first, my mum usually brings home remains of the food she sells for me and my brothers but she later changed and prefers to keep it in the fridge to sell the next day. It was at this point I decided to locate my father's shop in Doyin so that I and my brothers can be returning there from school, but when I got there, there was no shop. I saw him selling slippers in the traffic."
Little Dickson did not let the opportunity pass him by, he, despite the shock, went ahead to make new friends and by the time he was visiting his father's 'shop' the second time, he already owns his own 'shop.'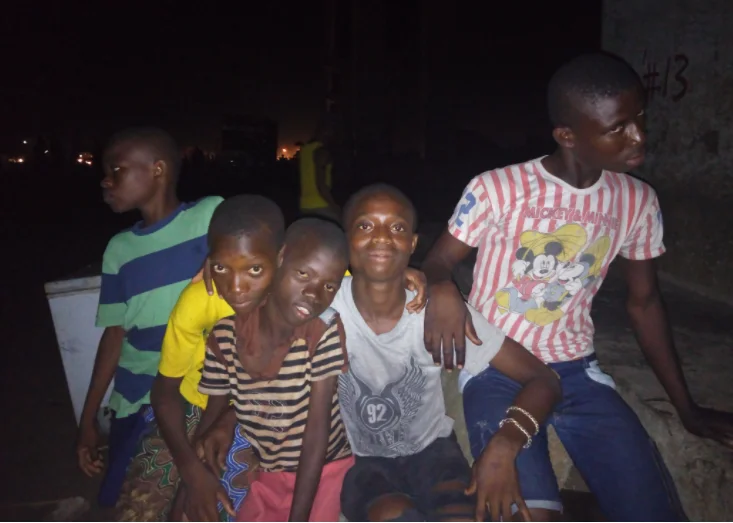 Child conductors under the Orile railway bridge at night

"I started selling pure water in traffic but the gains were too small. I rarely sell a bag in a day and even if I do, I don't make more than N30 as I would have drunk from it while some would have busted in the process of running after vehicles. So, in 2016, I joined some friends here and that's how I became a bus conductor.
"I make between N100 and N200 and I use it in feeding myself and siblings. It would be late before mum returns from shop in the night and when she does, she doesn't bring food for us.''
Dickson's day is routine; he wakes up in the morning to go to school, returns to Doyin after school to complete the day as conductor. He seems to be enjoying the freedom fate has resorted him to but still loathe the fact that he doesn't make enough to feed himself and brothers
"No matter what you do in this garage, you can never make more than N200 in a day,' he said with a tone of finality.
Children conductors in Lagos have, over the years, become a normal phenomenon as the quest for survival pervades the city. With a high level of unemployment, alarming poverty rate, family breaks-up, and several other socio-economic problems in the country, innocent children are compelled by fate to take up responsibilities which force them to the street early in life. They don't live, they survive under gnashing life-threatening conditions as hawkers, cart-pushers, beggars, and a good percentage, as bus conductors.
A typical child conductor in Lagos eats whatever he sees, roams the streets without hope of a permanent abode and takes refuge at night wherever nature permits — sometimes inside an abandoned vehicle, the top of a pedestrian bridge, the frontage of a shop, underneath a flyover or open spaces by roadsides.
No more school
Twelve-year-old Basit Sheriff is the youngest conductor at the Doyin-Orile bus stop. Dressed in dirty short on over-sized polo shirt, the dark-complexioned 'boy' as he is fondly called visibly wears the aura of poverty defined by his parent's neglect. But there is more to the story of the Ibadan-born Basit than what can be gleaned at a glance from his physical features.
First, he opted for the role of bus conductor because he 'loves doing it' and does not want to continue going to school. Secondly and more gnawing, he hates school.
"I make between N150 or N200 in a day. I will help them 'shadow' and they will give us a token for that. I started in January 2017 and I have saved up to N500 which I want to use in buying clothes.
Even though Basit is lucky enough to belong to a nuclear family of seven, with both parents still living together, he would jump at any opportunity to stop schooling and pursue his life dream.
"Currently, I'm a member of Boys Scout but I don't want to go to school again, I just want to be a soldier.''
Asked how he intends to be a soldier without formal education, Basit looks away, puts up a what's-your-problem-stare and answer, 'I just want to be a soldier.'
According to the United Nations Educational, Scientific and Cultural Organization, UNESCO, Nigeria has 10.5 million out-of-school children, the highest rate (47%) anywhere on earth. Almost 1 out of every 3 primary age children is out of school, and roughly 1 out of 4 junior secondary age children is out of school.
The Lagos children conductors constitute a good percentage of this figure. They live in their own academic world and develop their vocabulary as the society evolves. To a Lagos child conductor, the word 'shadow' refers to the act of calling passengers into to a bus, 'fiber,' means Naira, 'watch' most times pronounced as 'wash' is a caution word usually used to call attention of a driver to an imminent danger.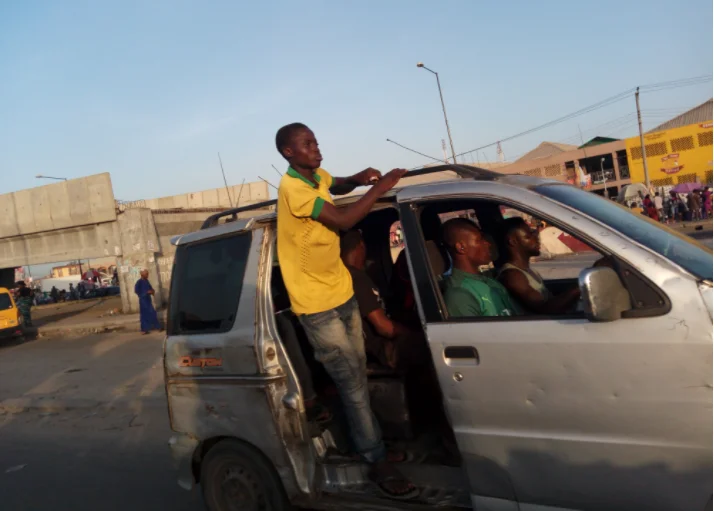 A child conductor hanging on a bus on the Lagos-Badagry expressway
Basit, though enrolled in a primary school by his parents, seems to have found enough education in these words as he made use of them more often while the interview lasted. But why would a 12-year-old boy so detest education?
Mr. Kelani Akeem, a social worker and founder, Out of School Children Empowerment Foundation, OSCEF, blamed the moral decadence on failing parental system.
"When you see a child at Orile, Mushin or CMS who tells you he doesn't want to go to school, it tells you something and that is the fact that our parental system is failing. The parents are not taking up their responsibilities as they ought to and immediately such a child gets the opportunity to taste the other side of life, the child will suddenly realise his deprivation.
"It starts from feeding, provision of school material, shelter, clothing and other needs. If a child lacks this at home and finds a chance of getting it elsewhere, he joins a new family which totally changes his orientation and after making money on his own for sometimes, he doesn't see a world beyond that again, and that is why we have some of them not interested in education.''
'We love it, the way we live our lives'
The atmosphere gives a wrong impression of their life predicaments Adeola Wasiu, 14, and Daniel Ifaluyi, 16, provides the beats from a cushioning loose fill obviously dumped along the rail line while Yusuf Owolabi,16, Afolabi Samson 15 and Azeez Fatai, 17, the only one who had experienced a fall from a moving bus sing loudly the lyrics of a Nigerian song which connotes that they will get rich soon.

The setting is the notorious under-bridge in Oshodi, Lagos and the characters are children who eke out living as bus conductors. It rained in the morning thus the environment remained wet, murky, dirty even at the height of the Friday sunshine but this didn't deter the 'Oshodi boys' from having what could be termed as the only moment of excitement in their day. Some others conductors who appear indifferent to the activities either smoke or are in the process of doing so as they wrap with expertise the 'weed' into Rizla.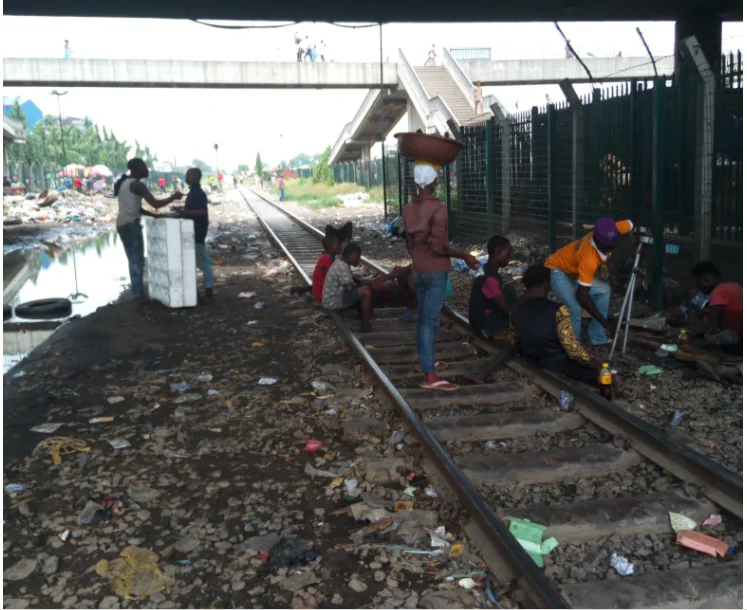 Oshodi boys in lyrical mood
Once the morning "shadow" is completed, the need for a well-deserved moment of gyration before the evening rush of passengers become enticing.
Runaway Yusuf
Popularly called 400, 16-year-old Yusuf Owolabi, the first- child of a polygamous family in Abeokuta, Ogun State, left his parent's house a month he couldn't remember in 2016. Events that culminated in how he got the nickname 400 seems more interesting than his present situation.
It was a rainy day in 2016 when a car got stuck in the mud. Yusuf was called to help in pushing the car out of the mud and when the task appeared bigger than his little biceps, he called a friend nearby to help.
"When we finished pushing the car, the man gave me N400 and in order to make more than my friend, I quickly pocketed N200, told him the man gave us N200 which I shared equally'' he narrated hilariously.
Yusuf's antics was not enough to put off his friend as he insisted the man gave them N400 and would take his fair share of N200. A fight broke out and in the end, he earned the tag of one who fought his friend over N400 and thus, the nickname stuck. Some months later, Yusuf joined the bus conducting ring at Oshodi.
Except in well-recognised car parks, there is no particular initiation or registration process into bus conducting in Oshodi, like other places in Lagos, but Yusuf was not lucky enough on his first outing.
"My friends told me that whenever I see a bus I should mount the door and call passengers but I didn't stay up to one minute on this bus before the driver sent me away. He said I don't know how to call the bus stops well. I was discouraged, I decided to join the load carriers here while I learn the bus stops and two months later, I finally became a conductor for the Oshodi-Iyana Ipaja buses.''
Yusuf who confessed he had never gone back home since he left said he makes up to N2000 in a day, an amount which goes for his feeding, savings and smoking. 'I smoke at least 4 times in a day,' and further probe into his daily spend on smoking was around N600.
Abandoned Daniel

Yusuf's story paled significantly when compared to that of Daniel Ifaluyi, a native of Evwotubu in Edo State whose mum abandoned at 9–months-old, dad at 14-years-old.
"My father is a travel agent so when he wanted to help some people to travel 9 months after my birth, my mum pleaded to be included and that was how she left Nigeria. She never contacted my dad or any relative.
"My dad took me to her sister in Benin who trained me till I was 9 year old and after that she told my dad she coud no longer continue. I went back to my dad's house only to meet another wife and two children. At first, I thought she was my mum but later realised she wasn't. Things were going fine until last year when my dad decided to travel abroad too.
"When I was growing up, they usually tell me that my mum travel abroad and to me, this is a country on its own. I believed this until my father told me before his journey that he was going to Italy and that my mum also went to Italy. He gave me a number to call and he did call like two times, later, the number wasn't reachable to me or anyone. It became glaring at this point that he played same prank just like my mum.''
Few weeks after his father's departure, Daniel decided to move on with his life, he stole some money enough to take him to Lagos.
''When I reached Lagos, I saw some boys walking towards here (under the bridge) and approached one of them. We slept in Idi-Oro that night and the following morning, I followed him out, I started working as load carrier. When this seems not to be bringing enough money, I decided to be a bus conductor last month (April, 2017).''
Daniel, nicknamed Junior due to his small frame, smokes "once or twice in a day," never saved any part of his earnings because "they will beat me and collect it," and would want to be a musician or footballer.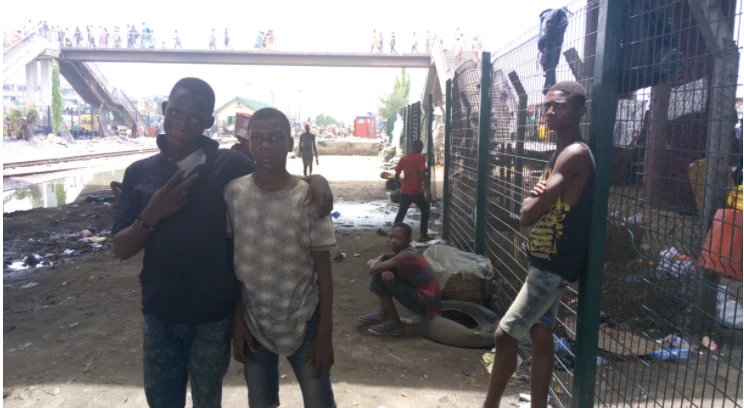 We love it the way we live says Oshodi boys
Even though their lives are surrounded by jaw-gnashing predicaments, none of the 'Oshodi Boys' will leave the 'brotherhood' for any reason. 'We love it the way we live together here, it's far better than what we passed through at home before coming here," Daniel concludes as he walks away.
'Females don't do conductor's job, but they are commodities to us'
Adeola Wasiu, Daniel's first contact when he arrived Oshodi last year, has been on the job for more than 10 years. Call him the oldest, most experienced of all, you are not mistaken as he sees far beyond the male fold but has the binocular to mirror the life of female street children.
Even though Adeola's claim of being 14-year-old betrays his looks and character, the strongly built 5-ft native of Abeokuta insisted he is. No amount of questioning will make him say his 'real age.'
''My mum and dad used to live together but they fight every day and at a point, mum left. I think I was five then. After some months, my dad told me and my siblings he could no longer take care of us, that we should fend for ourselves. That was how I became a child of the street very early,'' he says of why he joined the Oshodi Boys.
In a sonorous staccato voice, deepened by the many years of smoking, Adeola described how they sleep, wind up after the day's work and their relationship with Oloshos (women of easy virtue).

Sleeping positions under the Oshodi railway bridge
"If you want to see them I can take you there, they (females) live in Idi-Oro. Some already have children of whom they don't know their fathers.''
''Females don't do conductors here but at night, they are commodities to us. If you want to play with them you give them money and you can enjoy yourself for a short time or overnight.
Investigations revealed that Idi-Oro, Mushin remains a resting point for most of the Oshodi, Mushin, Agege bus conductors. The area prides itself in its provision of open spaces for shelter to street children, several alcohol and marijuana joints, brothels and meeting points for hoodlums.
According to Adeola's account, when it rains, and the open space becomes inhabitable, the best option is to "go in" with one of the "commodities."
"I use to go there after work to wind up the day. There is a woman who rents out mats for N200 and blanket for N150. After renting that, I will negotiate with the girl and we will get down to business till dawn."
In case any of the girls get pregnant, Adeola, who wouldn't want the government to eradicate streetism but provide basic amenities for street children, has a plan that seems like no plan.
"(If she gets pregnant) I don't know what will happen. Anything should happen. If I have money, I will cater for the child but if I don't, I can't kill myself, I will just find my way,'' he says in a tone that depicts little or no worry for the unborn.''
Children conductors like Adeola, Yusuf and others face myriads of life challenges which include health - nasal congestion, partial blindness, skin irritation, lack of access to education, abuse and other social problems but there exist a farther threatening challenge which most ignorantly walk into in the quest for survival.
The N5000 per head 'slave trade'
Mrs. Ngozi Okoro, the Lagos State Coordinator of Child Protection Network, CPN, a non-Governmental Organization for abused children nationwide, revealed that apart from the dangers of abuses, trafficking, introduction to social vices, Lagos children conductors just like other street children get sold by older urchins popularly called '
Area Boys
.'
''They (Area Boys) wait at interstate bus parks and when they see a child alighting unaccompanied they know he ran away from home. They call them
Osanle.
They put the child somewhere they call "guard room" and feed him or her. In the morning, people that want to buy the children for different reasons would line up and one by one they would disperse them
Mrs. Ngozi recalls her experience with the bigger boys in what she referred to as Old Oshodi before it got its current face-lift, courtesy of the Lagos State government.
"I went there with my team on a rescue mission but it was hard to penetrate their fold. So, my team and I had to speak with some of the Area Boys guarding them. They told us that they will release them at N5, 000 per child without a question of what we want to do with them.''
''They also send some of these children back to the village, give them some money and tell them to bring other children with them back to the city. One of the boys we rescued told us how he was being lured from Ijebu Ode to Oshodi in Lagos. He left home due to abuse and where he sleeps in the market, one of his friends who had been in Lagos for some time, offered him and 11 others free transport to Oshodi where they could earn a living. He yielded and on arrival, he was sold to a family in Ilupeu where he later ran away and found himself on the street again.''
Mrs. Ngozi noted that parental separation constitute a larger percentage in factors that force children out of home.
"The major factor is broken home; the father will leave the children, the mother will also abandon them and they will be left in the lurch or, in some cases, at the mercy of wicked step parents who force them out of home. She advocates for a 'proper arrangement' between parents whenever parents choose to toe the divorce path.
"It's not the fault of the child that you can no longer continue with each other but the responsibility still lies on you both the father and the mother. So, both parents should, as a matter of compulsion. see to that before separation."
No smoking, no entry – welcome to 'under'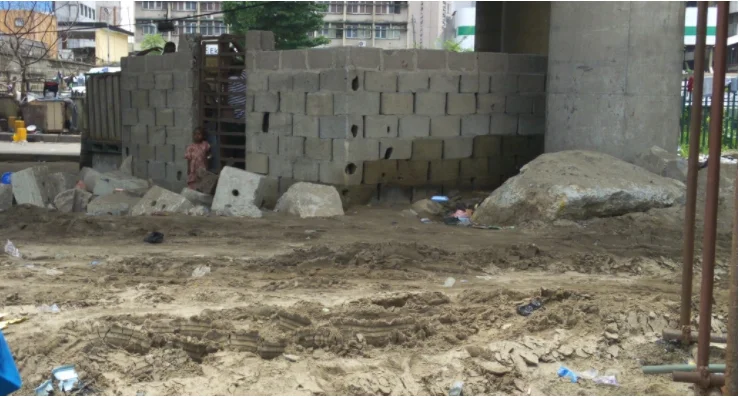 Under, resident to over 30 child conductors
A story about Lagos children conductors would not be complete without a glimpse into the world of street urchins who operates the CMS-Ajah route of the Island.
They live, sleep, eat, sometimes fornicate at different makeshift shelters along the CMS-Bonny Camp ring road which is notorious for harbouring conductors who flirt with a menagerie of social vices ranging from stealing, thuggery, smoking, alchoholism to rape.
"You can't go there alone but I will take you there. You have to be very sharp and keep all your gadgets from sight so they won't 'obtain' you," Sako, an adult conductor cautions the reporter as they approached one of the "shelters" under the bridge.
Popularly called
Under
due to its location (under the Outer Marina bridge), the brick, unplastered, open roof building, not bigger than the size of a standard room houses "about 30 of us," says 15-year-old Muyiwa, who first approached the reporter on getting there.
"What kind of goods do you want to sell,'' he queries in readiness to make brisk money.
"This phone," the reporter replies, "how much does it go for?"
After close observation he replies, "It depends on when you need the money. If you leave it with me, I can sell for N12, 000 but if you need money sharp sharp, I can give you N8, 000 for it now." He was later excused with the promise that the reporter will get back to him.
Investigations revealed that apart from being conductors, all occupants of
Under
deal in goods and services which earn them extra income. The goods include stolen phones, wrist watches, iPads and other gadgets while the outright services may include kidnapping, bullying.
But 'Under', more than any other shelter in CMS is known for its acceptance criteria. A criteria which posed itself as first stumbling block for then innocent 17-year-old Lekan Ajadi when he arrived from Ibadan in 2016.
"I used to be an apprentice barber in Ibadan but when fortune turned bad for my family, I left home and came here in April 2016. I approached one of them here and he told me I could never be accepted in
Under
because I don't smoke. Left with no other option, I gave in and instantly got a shelter and people I could call a family.
"I have been a bus conductor since and today, there are two things you can never take away from me: my conductor job and
Under.
These people are my family, I can't leave here. Even some people here who have better options of accommodation prefer to stay with us. We high (smoke) together and we own this road.''
The smoking criteria was confirmed by all occupants of
Under
interviewed by this reporter. "If you don't smoke, you won't be allowed here" says another occupant who was impatient enough to give his name. "It's a tradition that has existed for many years and you can't change it," he concludes walking away.
Law enforcement agents have over the years became friends to occupants of
Under
as they neither arrest nor caution them on their kind of lifestyle. "They know us and we know them so we don't get in each other's way," says Lekan.
Lekan was right. As this reporter prepares to leave the premises, a policeman walks to the door of
Under
and makes faint friendly conversation with certain gesticulations intermittently.
'He came to ask for
Rizla
,' Lekan who seeks assistance of funding to establish a barber's shop says with a smile of triumph, "you see, I told you, we know them and they know us."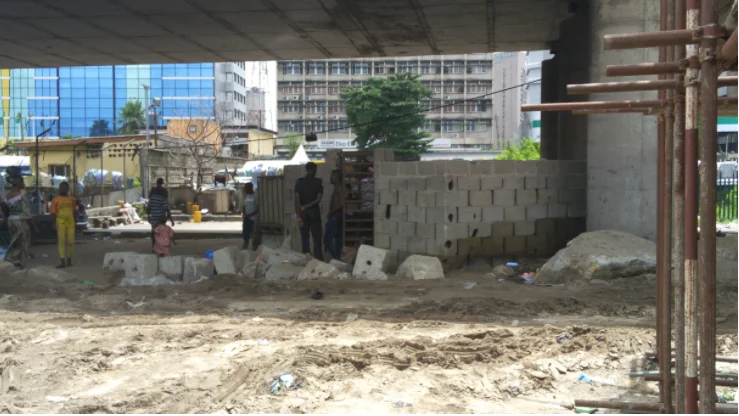 'We know them and they know us...' policeman at the entrance of Under
The law and its custodians
In July 2003, the National Assembly passed into law the Child Rights Act, a legal document that sets out the rights and responsibilities of a child in Nigeria and provides for a system of child justice administration.
Adopted by Lagos State on 2007, the law, an offshoot of the United Nations Convention on the Rights of the Child and African Union, AU Charter on the Rights of the Child (CRC) outlines the human rights to be respected and protected for every child under18 years and requires that these rights be implemented.
Section 30 (1) of the act states that no person shall buy, sell, hire, dispose of or obtain possession of or otherwise deal in a child, and (2) b; makes it clear that a child shall not be used as a slave or for the practices similar to slavery such as sale or trafficking of the child.
The implication of this passage ordinarily would mean that children are well protected and a breach of such act attracts a punishment of fine of two hundred and fifty thousand naira but one wonders how the trend of child conducting is still on, perhaps on the increase on Lagos roads.
Attempts at getting the reaction of the State Chairman of National Union of Road Transport Workers, NURTW, Alhaji Tajudeen Agbede proved abortive as several visits and follow-up to a letter submitted at his office yielded no positive result.
"The Chairman said he is not interested in speaking with you," the Secretary, Tijani Omowumi, told this reporter on the third visit.
However, the union's Deputy State Secretary, Paul Oginni in a telephone interview said that Lagos NURTW does not condone the use of children as conductors and to that end has retributive measures against erring drivers.
"Apart from domestic laws, the Union recognises international laws that prohibits child labour and we respect them.
"We have our patrol team always on the road and at the same time we have the monitoring committee. Wherever a child is spotted on a bus, we normally arrest the driver, delay him for hours thereby disrupting his day's plan. No driver would want to be delayed for hours so they also cooperate. Maybe those you (the reporter) see are JJC (new comers)"
Asked about the specific age set by the Union for bus conductors, Oginni said, "If you want to be a bus conductor in Lagos, you must not be below the age of 17-18-year-old."
On the other hand, the Lagos State Government through the office of the Environmental and Special Offences Enforcement Unit (Task Force) said it is doing everything in its powers to rid the road of children conductors as well as other street children.
The Chief Public Affairs Officer of the Task Force, Adebayo Taofeek, noted that the Task Force works hand in hand with the NURTW in enforcing the Lagos State road traffic law of 2012 which prohibits the employment of underage transport workers.
"The Task Force works hand in hand with the NURTW. We hold occasional meetings with the officers and drivers to enlighten them on the content of the law.
"Also, with the enforcement of the environmental law, we arrest miscreants and often times, they are under aged conductors. Particularly around Oshodi, Obalende and Pen Cinema, when we arrest anyone below 18, we screen them through our liaison office and refer them to Lagos because you can't send an underage to jail. They go there for counselling and rehabilitation."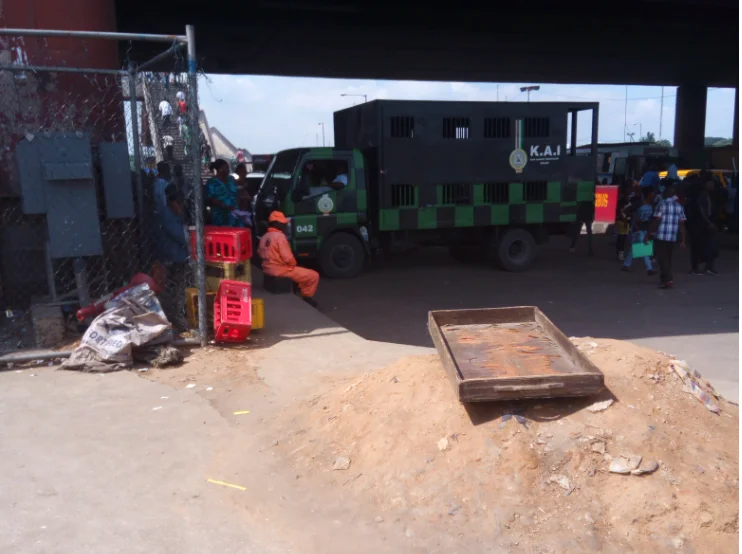 The Task Force vehicle under the Oshodi bridge but the ones they are meant to arrest are on the rail line, right behind the vehicle

'Lagos roads need no conductors

'

On the 21st of June, 2016, Lagos State Governor, Mr. Akinwunmi Ambode after signing a Memorandum of Understanding (MoU) with the City of Dubai to turn Lagos into a smart city, said the deal was "a deliberate attempt by us to establish a strong convergence between technology, economic development and governance."

He said: "The MOU is between Lagos State Government and Dubai Holdings, LLC, owners of Smart City (Dubai) to develop a sustainable, smart, globally connected knowledge-based communities that drive knowledge economy. A Smart-City Lagos will be the pride of all Lagosians just as we have Smart City Dubai, Smart-City Malta and Smart-City Kochi (India).''

To achieve this feat, especially in area of transportation, Lagos roads need no conductor – child or adult, posits Prof. Samuel Odewumi, Head, School of Transportation, Lagos State University.

The don prescribes a model which will totally eradicate the use of bus conductors and reduce traffic gridlock on major roads.

"The conductors perform three major roles which can be substituted with proper planning; they call in passengers, collect transport fare to allow drivers focus on driving and help passengers identify their destinations.

"For the first role, you don't need a conductor to shout at the top of his voice to call passengers. What we need is a banner or electronic notice by the side or on top of the bus that instantly tells the passengers where the bus is heading to.

"We can employ the ticketing method and later, the use of cards for money collection and lastly, an electronic visual and sound system inside a bus should occasionally remind passengers of next bus stop. That is the only way we can reduce the nuisance caused by conductors on the road and eradicate the use of underage children."

On rehabilitation of children already into transportation work as conductors, Prof. Oduwumi prescribed a flexible model which will transform them into skilled individuals over a period of time.

"The government should not try to take them off the street immediately. First, visit and pay off one of their days in a week, teach them some things in the area of affective domain. Talk to them, give them new orientation, hope and then ask them what the government could do for them to take them off the buses.

"From there, you can increase it to two days and based on their responses, hold skill acquisition programmes in just the two days. Don't tamper with the freedom they enjoy in the remaining days yet. After a year, reward the good ones and make it a sustained policy. They will see it as hope lifter and before long many will key into the programme."

But, until deliberate actions are taken to halt the deteriorating prospects of these children who are caught in-between the jaws of a cold society, the larger battle to save Nigerian street children remains a hard fight with no sign of victory in sight.