Rivers State Governor, Nyesom Ezenwo Wike, has declared that the state is not celebrating Democracy Day because the Independent National Electoral Commission, INEC, has destroyed the foundation of democracy by plotting to allocate legislative seats in the state.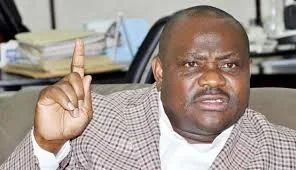 The governor also declared that his administration will deliver more pro-people projects and programmes in his second year in office.
According to Simeon Nwakaudu, Special Assistant to the Governor on Electronic Media, Wike was speaking during a thanksgiving mass to mark the first year anniversary of his administration at the Our Lady of Holy Rosary of the Catholic Institute of West Africa, CIWA, in Port Harcourt on Sunday.
Governor Wike said that INEC has perfected plans to allocate legislative seats in Rivers State instead of conducting the inconclusive rerun elections in the State.
He said: "We will not celebrate democracy because INEC wants to determine who will represent Rivers State. After two months of cancellation of elections, so that it can allocate some seats to APC and others to PDP. Is that democracy?
"We beg INEC to hasten to conduct elections in the remaining seats. We want our representatives in the Senate, we want our representatives in the House of Representatives. We are not saying that INEC should allocate seats to us. We don't want allocation, we want voting.
"We will not accept allocation of seats. We will only accept elections for the remaining seats".
On his first year in office, Governor Wike said despite the challenges faced by his administration, he performed creditably , ensuring that the people enjoyed the dividends of democracy.