Monday's proposed resumption date for primary and secondary schools in the country has caused a sharp division among the pupils, the Punch reports.
Excerpts:
Apprehension still hangs over the fate of schools more so as the Nigerian Union of Teachers has directed its members to shun the directive if adequate preparations are not put in place on their protection and their pupils' against the Ebola Virus Disease. The Federal Government had initially postponed the resumption date to October 22.
A JSS 2 pupil of Whitesands Secondary School, Lagos, Nnamdi Otiono, said, "The school resumption should be shifted because the Ebola disease has not been totally eradicated from Nigeria even though no new case has come up. What I heard about the disease is that it is deadly and kills within 21 days, we should all take necessary precaution. Moving the school resumption would be in our best interest. I would request that the health and education ministers sit down and discuss what is best for the education sector. At the same time, the Federal Government should ensure that thermometers are provided for all government schools. However, I plan to protect myself when school resumes, I will always carry my hand sanitiser and try not to take part in sporting events. I will regularly wash my hands."
An SS1 pupil of Somori College, Lagos, Deborah Michael, also said, "I am resuming school on Monday and this makes me happy and sad. My reason for being happy is that I wouldn't have to stay at home all day any longer. It's boring staying at home all day doing nothing. I'm desperate to go back to school. But I'm also sad because I don't want to contract Ebola. I first heard about the disease on radio and that it kills easily. I also heard that it was one man that brought it into Nigeria. In school, one wouldn't know who has it. I plan not to hug or shake hands with anyone in school."
A pupil of Chrisland High School, Lagos, Oluwatofunmi Layi-Babatunde, who wants to become a medical doctor, said she might have a change of heart.
Another pupil, Maisy Nkiru, of Pinecrest Model Primary and Secondary School, Enugu who wants to be a banker, expressed fears over the Ebola disease.
"I don't want to go to school, I don't want to fall sick," she said. She explained that her parents had hired a private tutor, who comes to the house to teach her, three days in a week.
However, a JSS 2 student in the Command Secondary School, Enugu, James Eziri, said he was ready to return to school.
James who wants to be a professional footballer, told our correspondent that he was tired of staying at home and wanted the schools to resume.
He said, "I look forward to going back to school, I am tired of staying at home and I want to see my friends again. But I will not shake hands with anybody because of Ebola. My elder sister bought a hand sanitiser for me, I will go to school with it."
Despite being aware of EVD, a JSS 2 student of Craft Development Centre in Port Harcourt, Divine Maduabuchi, is not afraid to return to school. The boy who wants to be an artist, however, has a piece of advice for the government: It should "try its best to find a cure for the disease."
click here to read more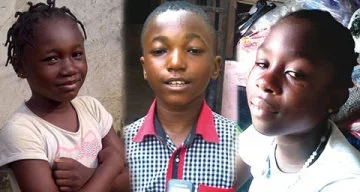 #Ebola #Nigeria #Lagos #Enugu #Punch