Governor Nyesom Wike of Rivers has cautioned youths in the Niger Delta currently blowing up pipelines installations and flow stations.
Wike said this while speaking on Channels Television Sunrise daily on Tuesday.
He said: "Any persons planning to take up arms and blow up pipelines should know that it will not be in the interest of the state so they should not should participate in that. In one way or the other we will suffer at the end of the day".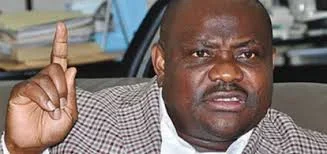 Wike warned youths of the region that no matter how genuine their agitations are it can be channeled through the right medium. "As your Governor if you have grievances you tell me as a Governor and I will have opportunity of bringing the issue to Mr President."
Wike said states depend on revenue from crude oil sales to develop the states. "So I will not support in blowing up of flow stations or pipelines. So whatever grievances you have let us know and I will present it. I am one man that will always defend my people no matter what it will cost me in life. What is important is that we must protect the interest of our people in a legitimate way," Wike added.
It would be recalled that the Rivers chapter of the All Progressives Congress had accused Wike of supporting the blowing up crude oil pipelines.