Ebonyi State Governor, David Umahi, has faulted a report, which listed him as one of the worst performing governors in the country.
Umahi, while describing the report as baseless, said it was aimed at tarnishing his hard-earned image and reputation.
The governor, who spoke through his Commissioner for Information and State Orientation, Senator Emmanuel Onwe, during a press briefing in Abakaliki , said the report was a cheap blackmail.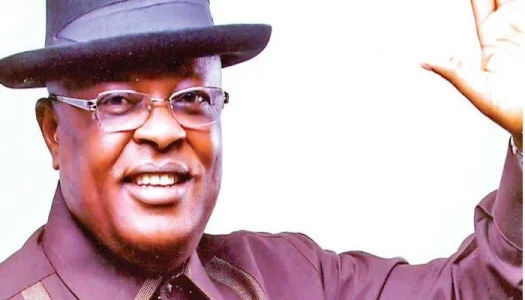 A statement by Umahi's Chief Press Secretary, Emma Anya, quoted Onwe as saying that a member of the CIAPS, identified simply as Kunle, had on October 12, 2015 called him and requested a collaborative effort between Ebonyi State Government and the CIAPS on a research.
The statement quoted Onwe as saying, "On October 12, a man who identified himself as Kunle approached me and demanded a collaborative effort between Ebonyi State and CIAPS – which he claimed to represent.
"He proposed that Ebonyi State and its governor would be given positive publicity by ranking him among the best governors in the federation in return for a bi-annual payment of money to the CIAPS."
Onwe advised the CIAPS to stop publishing falsehood in the name of research against those who refused to dance to their exploitative tendencies.
The commissioner said, "It is sad when serious public commentary is hijacked by blackmailers and extortionists who seek to tarnish the image of those who refuse to grease their palms."
He said, "In less than six months, the Umahi administration had rehabilitated and constructed the old Ogoja Road, the Nkaliki Road, New Market Road, Echiegu/ Hosanna Road and the Isiuke Lane.
"Work is ongoing at Udemezue, Amagu,among other roads in the state capital. Contracts are being concluded for the construction of 15 kilometres of roads in each of the 13 Local Government Areas of the state."
- Dailypost