The National Chairman of the Peoples Democratic Party, Senator Ali Modu Sheriff, and the Chairman of the sacked Caretaker Committee of the party, Senator Ahmed Makarfi, on Monday, in Abuja, engaged each other in a war of words over alleged subvention from governors elected on the platform of the party.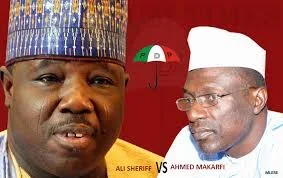 Sheriff accused the caretaker committee, headed by Makarfi, of collecting N50m monthly as subvention from the governors, while Makarfi also accused Sheriff and his team of hobnobbing with the ruling All Progressives Congress.
Though he did not deny that the governors fund the committee, Makarfi however asked Sheriff and other members of his group to declare where they got the jeeps they were riding from.
Sheriff said the caretaker committee members were reluctant to concede defeat and leave because of the N50m he alleged that they received monthly from the governors to run the party.
He alleged that this was why the members of the caretaker committee, which had been outlawed by the Court of Appeal, Port Harcourt, Rivers State, rushed to the Supreme Court to appeal the judgment.
The Deputy Chairman of the party, Dr. Cairo Ojougboh, who spoke on behalf of Sheriff, made this allegation at a press briefing in Abuja.
He said, "The reason why the caretaker committee members are protesting is that they have seen that the table is now crumbling fast under their feet.
"All the organs of the party are cueing into the reconciliation and when the reconciliation pulls through, they are out and Senator Makarfi can only come as a member of the Board of Trustees and so the N50m monthly subvention from governors will stop.
"They get subvention from the governors every month and when reconciliation happens, that subvention will stop.
Spokesperson for the caretaker committee, Dayo Adeyeye, who reacted on behalf of Makarfi, said it was wrong for Ojougboh to claim to be an officer of the party.
On the alleged N50m monthly subvention, he said it was a lie, and blackmail, but added that every member of the party, including the governors, funded the party.
He said, "This is a lie from the pit of hell and a very cheap and unintelligent attempt at blackmail. It is a known fact by all critical stakeholders of the party and even the staff that the national caretaker committee has, from inception, have been hamstrung by inadequate finance.
"It is that bad that simple secretariat duties have been a struggle while we have been unable to pay staff salaries of just N18m a month.
"Members of the committee do not enjoy any remuneration; it is a selfless service. It is therefore a figment of his imagination to say that the governors give the committee N50m monthly."
Ask if the committee didn't collect money from the governors at all, he said, "We receive donations from everyone, including governors and those elected on the platform of the party."