Former Kano State governor, Malam Ibrahim Shekarau yesterday said he has no intention to quit the Peoples Democratic Party (PDP).
The governor said he should be counted out of any plan to float a new political party that will challenge both the PDP and the ruling All Progressives Congress (APC) in 2019.
Shekarau, who was reacting to the recent media report that he and other PDP chieftains are planning to form a new political party, said the report was untrue.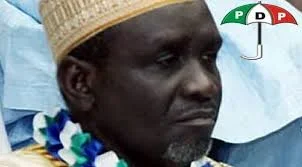 He said "I want to state categorically that I am still a member of PDP and I have no intention whatsoever to leave the party, not to talk of forming a new party."
Speaking through his aid, Malam Ghali Sadiq, the former education minister said he never participated in any meeting with any person or group of persons for the purpose of forming a new political party.
However, he said recently, some like minds of the party had series of meetings aimed at rebuilding the PDP and find solutions to some problems affecting the party after its defeat during the 2015 general elections.
-
Source