Senate President, Dr. Abubakar Bukola Saraki will on Tuesday lead a five-man delegation on a three-day visit to the German Parliament, the Bundestag, to promote improved economic relations between Nigeria and Germany as well as for the purpose of peer review.
A statement signed by Yusuph Olaniyonu, Special Adviser (Media and Publicity) to the Senate President stated that the delegation will hold series of meetings with the leadership of the German Parliament and the German-African business groups.
"The visit will commence with a visit to a German Village, Feldheim, which was the first community in the country to achieve 100 percent self sufficient renewable energy. This will enable the Nigerian delegation to learn a few things on how to resolve the nation's perennial energy crisis.
"The Senators will at different times meet with the President of the Bundestag, Mrs Dreyer, her Deputy, Johannes Singhammer, the Parliamentary State Secretary in charge of the Federal Ministry for Economic Co-operation and Development, Thomas Silberhorn, the Konrad Adenauer Stiftung, head of Julius Berger, Mr. Walter J. Lindener and President of the Berlin House of Representatives, Ralf Wieland.
"It will also hold discussions with economic representatives of the German-African Business Association, the Parliamentary Friendship Group for relations with the English and Portuguese speaking States of West and Central Africa of the Bundestag and attend plenary of the German Parliament.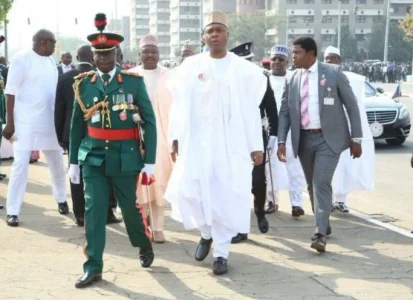 "The legislators, apart from visiting important legislative institutions in Berlin, will hold discussions with Nigerian embassy officials and discuss possible ways of engaging with the German authorities to further attract German investment into Nigeria and improve economic relations between both countries.
"The visit to the German Parliament by the leadership of the Nigeria legislature will present opportunities for the visitors to explain the economic policies of the present administration and the legislative support being offered by the National Assembly in that regard. The Senators will further solicit support from the Germans for Nigeria's drive for diversification of its economy and solicit the support of the German business community".
Here are list of the senators for the trip:
Senate Deputy Leader, Bala Ibn Na'allah,
Chairman, Foreign Affairs Committee, Monsurat Sunmonu, Chairman,
Committee on Power, Enyinnaya Abaribe and
Chairman, Committee on Defence, Abubakar Kyari