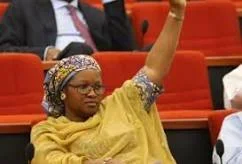 The Senator representing #Kaduna South Senatorial District in the National Assembly, Senator Nenadi Esther Usman, while speaking at a stakeholders meeting organised to find a lasting solution to the constant attacks by #Fulani herdsmen on communities in southern Kaduna, has said that the current security challenge in the country has over powered the strength of the nation's security.
While appealing to the people to pursue peace building as well as community policing to curtail the attacks, she stressed that the growing rate of insurgency in the country has dwarfed the strength of security personnel, making it very necessary for a "collective responsibility" of all citizens to provide security and not government alone.
She lamented the incessant, unprovoked attacks, which claimed the lives of hundreds of defenseless innocent people of the area, including property worth millions of naira destroyed.
Senator Usman said that lack of effective vigilante services in the area has been responsible for the heavy casualty suffered by the people during such attacks.
She called for community policing in the area as well as collaborate with security agents to curtail such attacks which has claimed several lives in the last four years.
She appealed to security agencies operating in the area to double efforts at protecting the lives and property of people of the area, The Nation reports.
#TheNation